Digital Content Specialist / Librarian
Job Location Saint Paul, Minnesota
Job ID 2019-8757
Apply
Overview
The Digital Librarian works closely with the business unit's content team to help develop and define a reusable and sustainable content model. While the content team defines the 'who, what, when, where and why' of content, the Digital Librarian organizes the shape, structure, and application of the content assets to ensure reuse across multiple channels.  The Digital Librarian is responsible for managing the content within the content management system (CMS).  This role is also accountable for the technical, creative, and analytical aspects of the digital content and will partner closely with the business units and digital teams for continuous improvement.  
Responsibilities
Manage content within Kentico CMS, including uploading, organizing, auditing, and removing content

Partner with technical leaders to build a content model to support an omnipresent content strategy

Develop and implement taxonomies and supporting semantic services

Develop and implement metadata strategy inclusive of SEO best practice

Identify concepts and keywords and update tags and categorization in CMS

Develop and manage content related analytics and insights

Create guidelines and documentation to support the marketing contributors and authors

Partner closely and educate business units and channel teams on digital content needs, standards, and best practices

Identify concepts and keywords and update tags and categorization in CMS

Define and govern data modeling and design standards, tools, best practices, and related development methodologies for the organization

Analyze data-related system integration challenges and propose appropriate solutions

Pinpoint areas for improvement and provide guidance to team to improve all data sets
Qualifications
Bachelor's degree in journalism, technology, business or related field of study.

At least 3 years of experience in digital marketing and/or Ecommerce environments, with direct accountability for SEO principles, semantic concepts and the Schema.org protocol

Experience managing web content

Strong understanding of personalization, content models, and adaptive content

Familiarity with database structures and import / export protocols; experience with headless application architecture a plus

Experience with agile processes in a highly dynamic environment

Experience with digital technologies; CMS, HTML, CSS, JavaScript and responsive frameworks such as Bootstrap

Strong attention to detail

Understanding of information architecture, user heuristics, prototyping tools and approaches

Basic understanding of data modeling, entity relationships, and the value of data structure and normalization.

Passion for content organization, optimization, and content marketing

Ability to clearly communicate complex technical ideas, regardless of the technical capacity of the audience

Ability to quickly learn and adapt modeling methods from case studies or other proven approaches
Apply
Join our Community
Join our network for company updates and future employment opportunities.
Connect with us!
The Patterson Companies Difference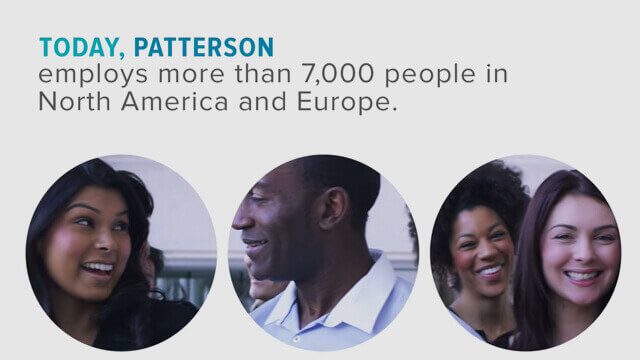 Corporate Responsibility
At Patterson Companies, we measure success by the strength of our relationships with our clients, customers and employees. From working with our partners to bring innovation solutions and provide best-in-class experience to our customers, to supporting employee volunteerism large and small, we're committed to building strong connections to support the communities we live and work in. Learn more about our corporate responsibility, click here.
Our Mission
Be a part of a great organization with a special mission: to be the market leading dental and animal health company supplying technology, marketing, support and logistics to maximize customer success. We connect expertise to inspired ideas, products and services and create a relevant, memorable difference in the lives of our clients, customers and employees. To learn more about our Mission and Values click here.