Customer Service Manager
Job Location Alachua, Florida
Job ID 2019-8800
Apply
Overview
The Customer Service and Sales Manager is responsible for the supervision of call center functions to ensure efficient and profitable direction toward achievement of national call center goals.  Serves the central point of accountability for customer service and sales agent performance, including productivity, revenue generation, quality and accuracy. The CSM manager is also responsible for employee engagement, knowledge and skills development.
Responsibilities
Major Duties
Communicates operational issues through the proper channels to ensure that all employees have current, appropriate and accurate information as necessary to fulfill their responsibiliti

Effectively supervises the day-to-day operation/activities of the customer service and sales agents in order to meet high level customer satisfaction and sales goals.

The position is responsible for achieving or exceeding new account acquisition and revenue targets for outbound business-to-business (B2B) sales to companion animal Health Professionals.

The position is also responsible for supporting the Field Sales Team in increasing their productivity.
Additional Responsibilities
Recruiting, selecting, training and managing high quality customer service and sales representatives.

Supporting implementation and leveraging technology to increase the efficiency and effectiveness of their team.

Development of a "success driven team" driving revenue, growing portfolio of new logos and creating opportunities to enhance field sales productivity.

Generating revenue from new and existing customers across the full portfolio of enterprise products and services.

Ensuring quality customer contacts through call guide development, service and sales training, and the monitoring of sales representatives.

Defining, refining, and institutionalizing best practices and processes for their team.

Supporting the launch of new products and product extensions/transitions.

Ensuring that their service and sales team is in compliance with laws and regulations relating to call center operations (do not call lists, etc.)
Qualifications
Bachelor's degree in Business Administration or related field preferred but equivalent experience will be considered.

Thorough knowledge of the veterinary industry and veterinary practices, equine experience a plus.

Prior experience in customer service and dealing directly with customers in a service capacity, preferably in animal health environment.

3 + years verifiable leadership/supervisor experience in personnel management, coaching and development.

Strong organizational, decision making and supervisory skills.

Strong oral and written communication skills.

An enthusiastic, high energy team player who is viewed as a "doer" on the team and across internal organizations.

Proficiency with MS-Office Tools desirable.
An Equal Opportunity Employer
Patterson Companies, Inc., is an equal opportunity employer. We consider all qualified applicants without regard to race, religion, color, sex, national origin, age, sexual orientation, gender identity, disability or veteran status, among other factors.
Apply
Join our Community
Join our network for company updates and future employment opportunities.
Connect with us!
The Patterson Companies Difference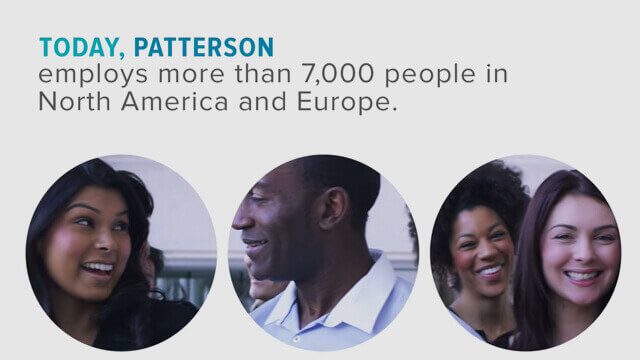 Corporate Responsibility
At Patterson Companies, we measure success by the strength of our relationships with our clients, customers and employees. From working with our partners to bring innovation solutions and provide best-in-class experience to our customers, to supporting employee volunteerism large and small, we're committed to building strong connections to support the communities we live and work in. Learn more about our corporate responsibility, click here.
Our Mission
Be a part of a great organization with a special mission: to be the market leading dental and animal health company supplying technology, marketing, support and logistics to maximize customer success. We connect expertise to inspired ideas, products and services and create a relevant, memorable difference in the lives of our clients, customers and employees. To learn more about our Mission and Values click here.