Client Tech Specialist - Turnkey Computer Systems
Job Location Amarillo, Texas
Job ID 2019-9201
Apply
Overview
Who are we looking for?
Turnkey Computer Systems, LLC, a Patterson Company seeks a dynamic Client Tech Specialist to be part of a team that quickly and effectively responds to incoming customer requests, provides training, and maintains applicable documentation in a professional and timely manner.
Why join Turnkey Computer Systems?
This is your chance to set your career in motion! Our future is full of exciting possibilities, and so is yours as part of our team. We believe that work shouldn't be something that you do just to make ends meet. It should provide satisfaction and an opportunity to make a real difference!
Our employees share a determination to make a difference, to enhance business success and to drive innovation where and whenever possible. We are not only looking for competent, qualified contributors, but employees who want to grow personally and professionally throughout their careers. We are in search of the best and the brightest minds to help fulfill our mission. We offer opportunities that allow you to apply and develop your strengths and we leverage your strengths to help us remain a major leader in our industry. We value the diverse thought and innovative ideas you can bring to the company.
The Animal Health International, Inc. Family of Companies is the right choice for individuals with exceptional ethics, integrity and long-term vision. We promote an atmosphere that encourages personal and professional development. We offer competitive salaries, excellent benefits, and a great working environment in locations throughout the United States and Canada. Animal Health International is an EEO/AA/M/F/D/V employer and participates in the Department of Homeland Security E-Verify program, an internet-based employment eligibility verification system.
Post offer pre-employment background check and drug screen are required.
Responsibilities
Guide customers in the functionality and custom use of their Turnkey software using online and/or on-site training methods. On-site may include traveling out-of-town/state for several times a year.
Respond to, and follow-through with, incoming customer issues via phone, email and/or chat sessions.
Provide training and information on the software offerings of the company in response to customer needs and inquiries.
Maintain accurate software documentation and provide customers with new information for the software products.
Maintain technical expertise and proficiency with all related and relevant software and computer systems.
Perform software testing and document results. 
Communicate professionally and effectively with customers.
Follow established department and company processes and procedures.
Perform other duties as assigned.
Qualifications
Bachelor's degree in Accounting, Business Administration, or Ag-Business/Ag-Ed (in lieu of a college degree, three years of comparable experience)
Strong verbal, written and listening communication skills
A desire to help people solve their software related problems
Strong interpersonal skills and the willingness to participate as a productive team member
Good analytical, problem-solving skills and ability to multi-task
Ability to absorb new ideas and concepts quickly
Consistent, positive attitude and self-motivated
Computer skills, including MS Office 
Preferred:
Experience in writing technical documents for implementation of software products
Accounting or feedyard accounting experience
Familiarity with livestock hedging with futures and options
An Equal Opportunity Employer
Patterson Companies, Inc., is an equal opportunity employer. We consider all qualified applicants without regard to race, religion, color, sex, national origin, age, sexual orientation, gender identity, disability or veteran status, among other factors.
Apply
Join our Community
Join our network for company updates and future employment opportunities.
Connect with us!
The Patterson Companies Difference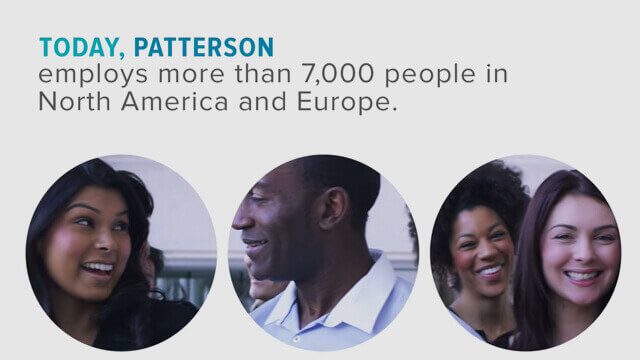 Corporate Responsibility
At Patterson Companies, we measure success by the strength of our relationships with our clients, customers and employees. From working with our partners to bring innovation solutions and provide best-in-class experience to our customers, to supporting employee volunteerism large and small, we're committed to building strong connections to support the communities we live and work in. Learn more about our corporate responsibility, click here.
Our Mission
Be a part of a great organization with a special mission: to be the market leading dental and animal health company supplying technology, marketing, support and logistics to maximize customer success. We connect expertise to inspired ideas, products and services and create a relevant, memorable difference in the lives of our clients, customers and employees. To learn more about our Mission and Values click here.