Facilities Technician
Job Location Blythewood, South Carolina
Job ID 2020-10305
Apply
Overview
Maintains positive public appearance of building and grounds. Maintains building and equipment to minimize down time and achieve safety goals. Promotes safe operation of all equipment. Follows appropriate guidelines for these functions.
The fulfillment center is a warehouse for the storage and distribution of dental, medical and veterinary supplies and equipment.  In general, the building's primary work area consists of pallet storage racking, roller storage and small item storage shelving.  The facility uses powered conveyor systems for the transportation of products. Pallet jacks and forklifts are used for palletized products. Some positions require use of safety equipment, which is provided as needed.
Responsibilities
Maintains Sanitation Procedures;

Follows preventative maintenance program for all equipment;

Monitors grounds for proper care and appearance;

Make prompt repair of equipment to limit down time, as needed;

Reports any sanitation issues to Facilities Supervisor;

Maintains positive public relations at all times;

Maintains facility infrastructure, equipment and systems to ensure operation and minimize down time;

Maintains electronic and paper maintenance records

Keeps the fulfillment center aisles clear and maintains integrity of storage locations;

Maintains the housekeeping and sanitation standards of the

fulfillment 

center;
Performs duties at or above quality standards;
Supports the company goals for quality and continuous improvement
Contributes to an atmosphere of teamwork and cooperation among all

fulfillment 

center staff.
Performs other duties as assigned or requested.

Frequency

Requirement

100% of shift

Standing

100% of shift

Walking

 75% of shift

Operate material handling equipment, machinery and tools

  50% of shift

  30% of shift

  15% of shift

    5% of shift

Lifting and carrying 1-10 pounds

Lifting and carrying 11-25 pounds

Lifting and carrying 26-50 pounds

Lifting and carrying over 50 pounds

  50% of shift

Bending and stooping

  50% of shift

Reaching above shoulder level

  50% of shift

Reaching at shoulder level

  50% of shift

Reaching at waist level

  50% of shift

  15% of shift

Climbing steps and/or ladders

Computer use

    5% of shift

Phone use
Qualifications
Post high school mechanical or building trades, or equivalent combination of education and work experience accepted;

Competent computer skills, and experience using computerized maintenance systems is preferred;

Strong organization skills, attention to detail and follow through to resolve any outstanding issues;

Strong time management skills;
Ability to read, understand and utilize equipment manuals;

Ability to effectively prioritize and multi-task;

Ability to effectively communicate with and manage outside contractors and vendors;

Possess internal customer service skills;

Knowledge of current laws and standards applicable to equipment and building maintenance, and facility security.
An Equal Opportunity Employer
Patterson Companies, Inc. is an equal opportunity employer. All qualified applicants will receive consideration for employment without regard to race, color, religion, sex, sexual orientation, gender identify, disability or protected veteran status.
Apply
Join our Community
Join our network for company updates and future employment opportunities.
Connect with us!
The Patterson Companies Difference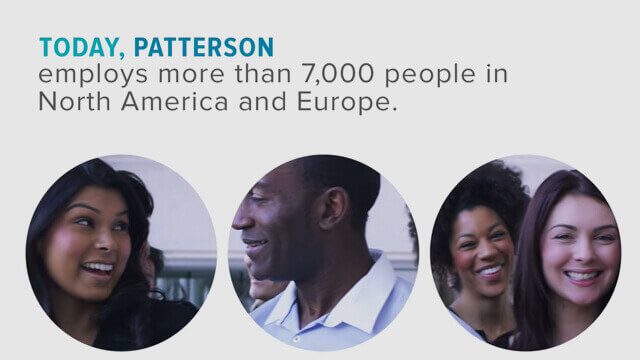 Corporate Responsibility
At Patterson Companies, we measure success by the strength of our relationships with our clients, customers and employees. From working with our partners to bring innovation solutions and provide best-in-class experience to our customers, to supporting employee volunteerism large and small, we're committed to building strong connections to support the communities we live and work in. Learn more about our corporate responsibility, click here.
Our Mission
Be a part of a great organization with a special mission: to be the market leading dental and animal health company supplying technology, marketing, support and logistics to maximize customer success. We connect expertise to inspired ideas, products and services and create a relevant, memorable difference in the lives of our clients, customers and employees. To learn more about our Mission and Values click here.