Inventory Control Clerk
Job Location Blythewood, South Carolina
Job ID 2019-9169
Apply
Overview
Job Summary
Using computer system-generated reports and input from other departments, maintains accurate, sellable inventory within the fulfilment center. From incomplete invoices that are delivered to the fulfilment center's order correct area, corrects and completes the invoices. Follows inventory team guidelines for management and control of product inventory.
Responsibilities
Essential Functions
Using computer system-generated reports, cycle counts products in the fulfillment center;

Using various computer system-generated reports, audits product locations to verify item, count and expiration dating accuracy;

Identifies and corrects inventory errors;

Sets up new, and adjusts existing, storage locations;

Investigates inventory discrepancies, and makes appropriate adjustments to inventory in the computer system;

For customer invoice item where inventory is not available, investigates the error and edits the invoice to remove the item;

Alerts the Supervisor to product non-conformances (new packaging, wrong count, product damage, shortages, etc.).

Detail regarding these essential functions is provided in inventory work instructions.

Keeps the fulfillment center aisles clear and maintains integrity of storage locations;

Maintains the housekeeping and sanitation standards of the fulfillment center;

Performs other duties as assigned or requested.
Critical Competencies
Ethics & Integrity: Acts consistently and makes decisions in the organization's best interest.
Customer Focus: Makes customers and their needs the primary focus of one's actions.
Drive for Results: Demonstrates drive, determination, and ownership to achieve both results and success.
Technical Expertise: Demonstrates and maintains technical and professional skill or knowledge in position-related areas.
Problem Solving: Uses logic and analytical methods to identify solutions resulting in effective problem resolution.
Self-Management: Manages time and resources and balances competing demands to ensure work is completed.
Collaboration: Works effectively with others to achieve a common goal.
Performance and Conduct Standards
Performs duties at or above productivity and accuracy standards, metrics measured by LPH or Lines Per Hour.

Supports the company goals for quality and continuous improvement;

Contributes to an atmosphere of teamwork and cooperation among all fulfillment center staff.

Attention to Detail;

Ability to Multitask;

Ability to Lift Heavy Objects; Ability to Stay on Feet for Long Periods of Time;

Positive Attitude; Self-Motivated

Safety Conscious

Ability to Work in a Fast Paced, Busy Environment

Good Communication Skill

Ability to Work Well on a Team but is Self-Motivated and Independent at times
Physical Requirements
Frequency                               Requirement

100% of shift

Standing

100% of shift

Walking

50% of shift

Pushing and pulling wheeled ladder or cart, up to 300 pounds

100% of shift

40% of shift

40% of shift

<5% of shift

Lifting and carrying 1-10 pounds

Lifting and carrying 11-25 pounds

Lifting and carrying 26-50 pounds

Lifting and carrying over 50 pounds

25% of shift

Bending and stooping

25% of shift

Reaching above shoulder level

25% of shift

Reaching at shoulder level

25% of shift

Reaching at waist level

1 - 50% of shift

<5% of shift

Climbing steps and/or ladders

Computer and/or scanner use
Working Environment
The fulfillment center is a warehouse for the storage and distribution of dental and veterinary supplies and equipment.  In general, the building's primary work area consists of pallet storage racking, roller storage and small item storage shelving.  The facility uses powered conveyor systems for the transportation of products. Pallet jacks and forklifts are used for palletized products. Some positions require use of safety equipment, which is provided as needed.
Extreme hot/cold temperatures

High voltage

Dirt or dust

Fumes

Smoke

Loud noises

Hazardous chemicals

Hazardous machinery
Qualifications
High school diploma or equivalent preferred.

Candidate must have ability to read and understand department process and warehouse safety documents and follow department work instructions.

Warehouse labor work experience preferred (receiving, order filling, shipping or customer service).

Forklift experience is desirable

Experience Working With an RF Scanner Preferred
This job description is subject to change, at management's discretion, at any time.
An Equal Opportunity Employer
Patterson Companies, Inc., is an equal opportunity employer. We consider all qualified applicants without regard to race, religion, color, sex, national origin, age, sexual orientation, gender identity, disability or veteran status, among other factors.
Apply
Join our Community
Join our network for company updates and future employment opportunities.
Connect with us!
The Patterson Companies Difference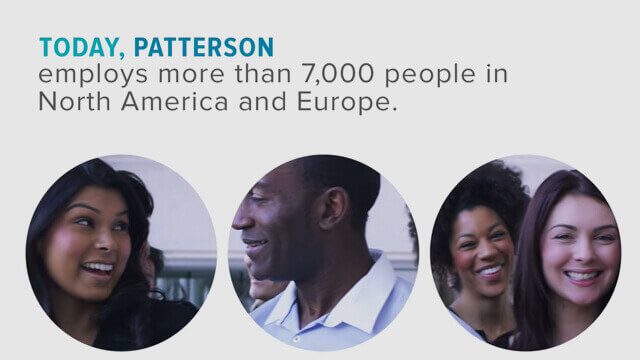 Corporate Responsibility
At Patterson Companies, we measure success by the strength of our relationships with our clients, customers and employees. From working with our partners to bring innovation solutions and provide best-in-class experience to our customers, to supporting employee volunteerism large and small, we're committed to building strong connections to support the communities we live and work in. Learn more about our corporate responsibility, click here.
Our Mission
Be a part of a great organization with a special mission: to be the market leading dental and animal health company supplying technology, marketing, support and logistics to maximize customer success. We connect expertise to inspired ideas, products and services and create a relevant, memorable difference in the lives of our clients, customers and employees. To learn more about our Mission and Values click here.