Inventory Supervisor
Job Location Blythewood, South Carolina
Job ID 2019-9595
Apply
Overview
Job Summary
Oversees the activities of the Receiving Team.  People management responsibilities include training, planning and assigning daily work, performance management, and conflict resolution.
Responsibilities
Essential Functions
Conducts investigations and resolves inventory discrepancies in a timely manner.
Alerts the shift Department Manager to any irregularities in the product inventory or processes (i.e. count and location errors, product shortages and product damage).
Performs all purchasing requests to include vendor write-offs, vendor returns and product identification checks.
Performs all vendor recalls.
Monitors the Unprocessed Receiving Discrepancies report daily.
Communicates with vendor and purchasing contacts on PO discrepancies.
Provides direction, assigns responsibilities and motivates the team to achieve department goals.
Determines proper staffing levels to ensure that all activities remain current.
Provides training to personnel, in compliance with standard operating procedures, to ensure that all department members fully understand and consistently execute all job duties.
Supervises personnel including setting expectations for behavior and collaborating with the Department Manager to resolve personnel issues.
Participates in the performance review process and makes recommendations for promotions and identifies and communicates the need for disciplinary action when appropriate.
Communicates distribution center, network, and corporate information during daily start up meetings to employees.
Administer policies/procedures in a fair and consistent manner. Professionally address issues with employees utilizing the proper resources.
Occasionally may participate in the interviewing and selection process by making recommendations to the Department Manager and/or DC Manager regarding hiring decisions.
Identifies and addresses safety hazards and coach personnel in safety initiatives.
Maintains housekeeping standards and ensures that all sanitation requirements are met.
Demonstrates conformance to Patterson's Quality Management System through developing and achieving objectives and performing corrective and preventive action that promote continuous improvement.
Reviews and corrects timesheets on a daily basis for accurate submission to payroll for bi-weekly pay cycle.
Performs routine compliance audits.
Performs duties of a warehouse employee if a critical need arises.
Performs other duties as assigned or requested.
Other Functions
Keeps the distribution center aisles clear and maintains integrity of storage locations;
Maintains the housekeeping and sanitation standards of the distribution center;
Performs other duties as assigned or requested.
Performance and Conduct Standards
Physical Requirements
Frequency

Requirement

95% daily

Walking and standing

 5% daily

Sitting

10% daily

Telephone use

50% daily

Computer use

Working Conditions

The distribution center is a warehouse for the storage and distribution of dental, medical and veterinary supplies and equipment.  In general, the building's primary work area consists of pallet storage racking, roller storage and small item storage shelving.  The facility uses powered conveyor systems for the transportation of products. Pallet jacks and forklifts are used for palletized products. Some positions require use of safety equipment, which is provided as needed.
Qualifications
Job Qualifications
Education/Training & Skills
High school diploma or equivalent required.  2 year associate degree preferred or equivalent combination of education and work experience accepted.
Experience using computerized inventory systems is preferred.
Excellent interpersonal skills are essential.
Strong organization skills, attention to detail and follow through to resolve any outstanding issues.
Strong time management skills.
Strong written and verbal communication skills
Relevant Work Experience
Minimum of 1 year in a Patterson Distribution Center or equivalent experience required. 
This job description is subject to change, at management's discretion, at any time.
An Equal Opportunity Employer
Patterson Companies, Inc. is an equal opportunity employer. All qualified applicants will receive consideration for employment without regard to race, color, religion, sex, sexual orientation, gender identify, disability or protected veteran status.
Apply
Join our Community
Join our network for company updates and future employment opportunities.
Connect with us!
The Patterson Companies Difference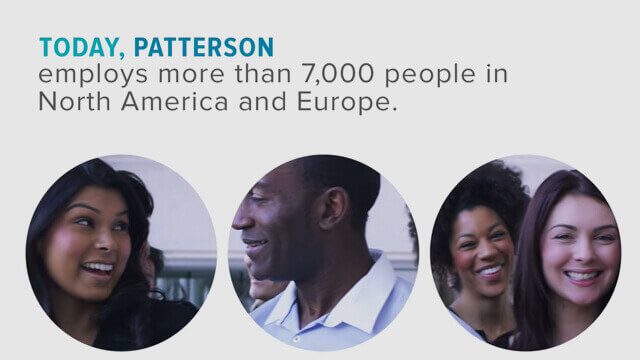 Corporate Responsibility
At Patterson Companies, we measure success by the strength of our relationships with our clients, customers and employees. From working with our partners to bring innovation solutions and provide best-in-class experience to our customers, to supporting employee volunteerism large and small, we're committed to building strong connections to support the communities we live and work in. Learn more about our corporate responsibility, click here.
Our Mission
Be a part of a great organization with a special mission: to be the market leading dental and animal health company supplying technology, marketing, support and logistics to maximize customer success. We connect expertise to inspired ideas, products and services and create a relevant, memorable difference in the lives of our clients, customers and employees. To learn more about our Mission and Values click here.