Business Warehouse Developer III
Job Location Eagan, Minnesota
Job ID 2019-9184
Apply
Overview
The Business Warehouse Developer III is responsible in delivering the BW data strategy and the construction, delivery and maintenance approach of the data architecture within Business Intelligence at Patterson Companies. This includes driving the SAP BW and Hana strategy, standards and process. This position also is accountable for establishing and maintenance of appropriate source control around BW development and the establishment and the maintenance of appropriate recovery points within the execution of all BW related jobs.  

The Business Warehouse Developer III will also provide a high level of technical support to both internal and external clients; is considered an expert in SAP BW and Hana technologies; maps data source to destination; has worked successfully integrating large vendor solutions and mentors other developers on best practices and approaches within Patterson Companies' technical organization.
Responsibilities
Major Duties:
Lead in the design, build, verification, implementation and maintenance of the SAP Business Warehouse, Hana, Data Services ETL code / jobs based on business needs.

Lead in the technical integration efforts for SAP products such as SAP Analytics - SAP BW on HANA, SAP BOBJ & SAP BPC etc.

Responsible for the long term BW/Reporting strategy supporting both internal and external user communities.

Lead the design and development of SAP BW integration with modules such as OTC, FICO, CRM, MM/Inventory, PP, Vistex and GTS.

Accountable to establish the standards and processes around providing support for SAP Business Warehouse tools, their jobs and the scheduling tools.

Participate on architectural governance team(s) and processes to guide and sanction critical architectural decisions

Drive the life cycle of the SAP Business Warehouse & Hana solutions by enabling smooth upgrades and/or installation and support of new capabilities

Prepare project and system related documentation consistent with standards and procedures outlined in the data architecture approach including data quality, BW security and availability requirements.

Review new applications for their ability to be integrated into the existing environment – specifically around data to data integration.

Coordinate support efforts in updating jobs, performance tuning, optimization, establishing metrics and IS initiatives with impact on data.

Lead the capacity planning function to properly identify needed hardware, software, ETL configuration / architecture to support application / business needs.

Collaborate with Business Intelligence Analysts, Application Developers, Quality Assurance, and Report Developers.
Qualifications
Minimum Qualifications:
Bachelor's Degree in Computer Science, Management Information Sciences, or related field.

5+ years of post-degree professional experience with data warehouse development, business intelligence tools, or equivalent.

Minimum four years of hands on SAP BW development, HANA, BW Architecture and implementation experience.

Experience with SAP BW Architecture: BW 7.4, BOBJ 4.1

In depth knowledge of all aspects of SAP Hana & SAP   Business Objects

Proficiency with Data Services, ABAP, BEx, OLAP, Cube design, Transact-SQL and SQL Data query and analysis.  

Experience in managing complex multi-national and multi country process harmonization projects and SAP BW/BI implementations; including working with a series of leading global technology companies, helping to deploy industry best practices.

Organizational management and optimization of business processes & best practices for SAP BW/BI deployments

Strong knowledge of database structures, theories, principles, and practices.

Good analytical and problem-solving abilities.

Good verbal and written communications with ability to effectively communicate at multiple levels in the organization.

Good knowledge of reporting and query tools and practices.
Preferred Qualifications:
Ability to present ideas in business-friendly and user-friendly language.

Highly self-motivated and directed.

Ability to absorb new ideas and concepts quickly.

Good analytical and problem-solving abilities.

Strong customer service orientation.

Ability to work effectively within a team and as an individual contributor in a fast-paced changing environment -- multi-tasks, prioritizes and meets deadlines in timely manner.

Strong verbal and written communications with ability to effectively communicate at multiple levels in the organization.

Strong organizational, attention to detail and task follow-up skills. Adept at handling multiple assignments in a timely manner and meeting assigned deadlines.
An Equal Opportunity Employer
Patterson Companies, Inc. is an equal opportunity employer. All qualified applicants will receive consideration for employment without regard to race, color, religion, sex, sexual orientation, gender identify, disability or protected veteran status.
Apply
Join our Community
Join our network for company updates and future employment opportunities.
Connect with us!
The Patterson Companies Difference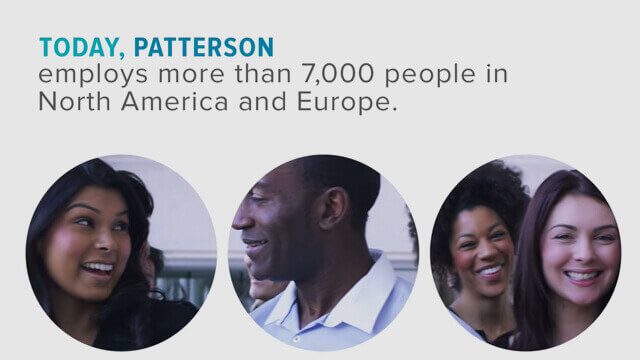 Corporate Responsibility
At Patterson Companies, we measure success by the strength of our relationships with our clients, customers and employees. From working with our partners to bring innovation solutions and provide best-in-class experience to our customers, to supporting employee volunteerism large and small, we're committed to building strong connections to support the communities we live and work in. Learn more about our corporate responsibility, click here.
Our Mission
Be a part of a great organization with a special mission: to be the market leading dental and animal health company supplying technology, marketing, support and logistics to maximize customer success. We connect expertise to inspired ideas, products and services and create a relevant, memorable difference in the lives of our clients, customers and employees. To learn more about our Mission and Values click here.