Communications Specialist
Job Location Eagan, Minnesota
Job ID 2019-10044
Apply
Overview
The Communications Specialist role is responsible for executing a communications strategy for the SAP group here at Patterson. This role will be responsible for designing the communications plan, creating communication vehicles, crafting key messages, and defining objectives and success requirements of communication initiatives.  The Communications Specialist will take a hands-on approach to ensure deliverables are achieved with the highest standard of quality and value. Additionally, the Communications Specialist will assist with other Organizational Change Management (OCM) deliverables, including Training and Site Readiness.
Responsibilities
Collaborates with a variety of internal customers to plan, identify key messages and execute communications tactics to multiple audiences

Supports OCM team through delivery of written communications vehicles such as monthly newsletters, emails, presentations, internal social channels to ensure information is posted in a timely and consistent manner and remains up to date

Serves as the main writer and editor for the monthly newsletter around new technology features or project updates

Uses planning/coordination skills to ensure consistency of messages, alignment to corporate objectives and values, proper approvals and coordination of publishing in appropriate mediums to meet deadlines.

Utilizes conceptualization, business, technical and creative writing skills to tell stories and develop a wide variety of business and technical content and communication.

Designs and maintains the SAP communications plan

Develops key messages for internal and external customers related to SAP process improvements and new features

Maintains company SAP sharepoint site for internal users

Measures and reports on Communications feedback and adoption on a quarterly basis and makes recommendations to management based on findings

Works with Creative services colleagues to devise marketing strategies that meet the SAP project's creative brief and budget

Conduct meetings with the core team members to keep them informed about the current work status of communication initiatives

Serves as primary communication consultant for any priority incidence (urgent system issues)
Qualifications
Bachelor's Degree in business, communications, advertising, or area of functional responsibility preferred, or a combination of equivalent education and experience

At least 1 year of experience doing similar communications work

Ability to effectively communicate with business leaders and collaborate with cross-department representatives

Strong written and verbal communication skills

Strong attention to detail with the ability to step back and review the overall vision

Able to work closely with agency experts in various strategy, digital, traditional and creative roles to identify and evaluate solutions to grow a client's business and meet their objectives

Previous experience with an Enterprise Resource Planning (ERP) system or other HR Technology

Proficiency with basic office technologies and ability to learn new tools quickly; experience with graphic design and/or photo and video editing tools a plus

Strong positive problem-solving and decision-making skills

Ability to exercise independent judgment and critical thinking

Thorough understanding of communications principles and best practices (written, visual, environmental, and interpersonal)

Project management experience preferred. Ability to be flexible, manage multiple projects with competing timelines, proactively manage up, push for solutions, and/or escalate for a resolution

Experience working with email marketing software (such as Constant Contact), SharePoint, and the Adobe Creative Suite is a plus
An Equal Opportunity Employer
Patterson Companies, Inc., is an equal opportunity employer. We consider all qualified applicants without regard to race, religion, color, sex, national origin, age, sexual orientation, gender identity, disability or veteran status, among other factors.
Apply
Join our Community
Join our network for company updates and future employment opportunities.
Connect with us!
The Patterson Companies Difference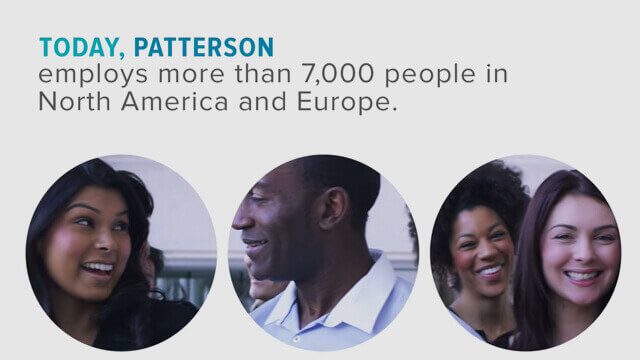 Corporate Responsibility
At Patterson Companies, we measure success by the strength of our relationships with our clients, customers and employees. From working with our partners to bring innovation solutions and provide best-in-class experience to our customers, to supporting employee volunteerism large and small, we're committed to building strong connections to support the communities we live and work in. Learn more about our corporate responsibility, click here.
Our Mission
Be a part of a great organization with a special mission: to be the market leading dental and animal health company supplying technology, marketing, support and logistics to maximize customer success. We connect expertise to inspired ideas, products and services and create a relevant, memorable difference in the lives of our clients, customers and employees. To learn more about our Mission and Values click here.