Principal Architect
Job Location Eagan, Minnesota
Job ID 2019-9290
Apply
Overview
Patterson Companies, a Star Tribune Top 50 Company, is hiring a Principal Architect at our corporate headquarters in Mendota Heights, MN. 
The selected candidate will play an integral role in building FUSE, one of our cornerstone cloud-based software products as part of our Software Platform and Services Team.  FUSE is a greenfield SaaS application for dental practice management that supports small single location practices to large dental services organizations and support well over 10,000 concurrent users.
Now in its 142nd year of operation, Patterson Companies Inc. (Nasdaq: PDCO) is a value-added distributor focused on providing best-in-class products, services, technology and experiences to dental and animal health markets in North America and the U.K. 
Patterson serves dental and animal health professionals from small, private practices to large group networks and production operations, and provides access to an extensive product portfolio including everyday essentials and specialty supplies through Patterson's supply chain network.
Additional offerings include: software and equipment sales and services, practice design and management solutions, patient and staff education, regulatory compliance, and technology support and expertise from the Patterson Technology Center.
Reporting to the Director of Information Technology, the Principal Architect role works with Product Owners, Business Analysts, Developers, other Architects, Infrastructure, DevOps, and stakeholders to transform business requirements and functional requirements into technical capabilities.
A qualified candidate will be proficient in developing strategy, vision, roadmaps, and approaches while governing implementations to those ends.
Responsibilities
Primary responsibilities of this role include:
Define and create a vision for the future that takes a broad organizational perspective

Research and set strategic direction for technology architecture with goal of promoting shared solutions to reduce costs and improve information flows

Identify innovative solutions to customer and business problems through research, key vendor partnerships, understanding of the business, knowledge of technology, and leveraging "the team"

Mentor and coach technology team members using personal experience

Assess and analyze business strategy, business requirements, current state environment and technology choices to evaluate solution alternatives that meet business sponsor needs

Collaborate with cross functional areas (security, infrastructure, application teams, business, DevOps) to define and deliver customer focused solutions that meet stakeholder needs

Advocate for shared software platform vision and strategy with various parts of the organization

Lead change through communication of vision, removing barriers to change initiatives, and driving discussion, debate, and decisions for change

Collaborate with other Architects to promote and ensure overall technology architecture alignment
Qualifications
Required Qualifications
Bachelor's degree in computer science, technology, mathematics, engineering, or related STEM field

10+ years of technology experience

5+ years of experience leading software design and implementation activities in a large-scale external customer-facing application

Experience collaborating with the business, translating business need into technical requirements and presenting ideas in business-friendly and user-friendly language to all levels of management and staff

Expert understanding of architecture design techniques, theories, principles, and practices

Ability to leverage both proven and innovative technology approaches to solve challenging business problems

Extensive experience in all aspects of designing and implementing large-scale cloud-based solutions

Experience with multiple technology platforms and proven commitment to maintaining cutting edge technology knowledge

Excellent written and verbal communication skills

Self-motivated, critical thinker with a strong technical background
Desired Qualifications
Advanced degree preferred

Experience with Azure PaaS capabilities and solutions
An Equal Opportunity Employer
Patterson Companies, Inc. is an equal opportunity employer. All qualified applicants will receive consideration for employment without regard to race, color, religion, sex, sexual orientation, gender identify, disability or protected veteran status.
Apply
Join our Community
Join our network for company updates and future employment opportunities.
Connect with us!
The Patterson Companies Difference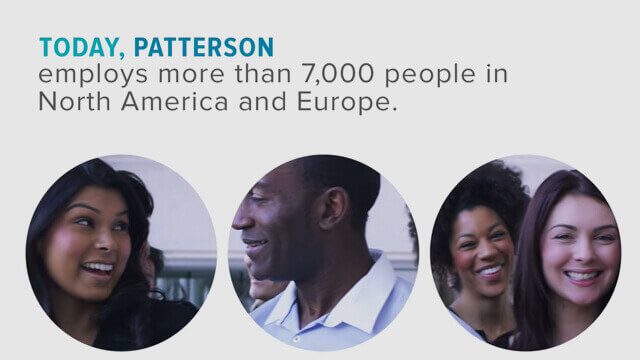 Corporate Responsibility
At Patterson Companies, we measure success by the strength of our relationships with our clients, customers and employees. From working with our partners to bring innovation solutions and provide best-in-class experience to our customers, to supporting employee volunteerism large and small, we're committed to building strong connections to support the communities we live and work in. Learn more about our corporate responsibility, click here.
Our Mission
Be a part of a great organization with a special mission: to be the market leading dental and animal health company supplying technology, marketing, support and logistics to maximize customer success. We connect expertise to inspired ideas, products and services and create a relevant, memorable difference in the lives of our clients, customers and employees. To learn more about our Mission and Values click here.