Product Owner III
Job Location Eagan, Minnesota
Job ID 2019-9312
Apply
Overview
Overview:
As a Senior Product Owner at Patterson Companies, you will be part of a dedicated commercial software team that crafts a modern web application experiences for our customers.  The team will count on you to build a shared understanding for how our products can maximize value for our customers.   We believe in agile teams, fast feedback to guide product development with continuous deployments, and a software product that is crafted not fabricated.   This is an exciting opportunity to generate significant revenue for the company and serve the emerging mid-market, multi-location dental practice market.
Our Interest in You:
We are interested in employing people who take pride in their craft, can work successfully in a team with different experience and skills, are interested in learning, and insist on high standards of professionalism and performance.   As a Senior Product owner you will be able to hit the ground running with hands on experience with Story Mapping, Product Backlog Management, Story Writing, and building Product Road Maps.
Technologies:
We build and run technology solutions that run in the cloud and are sold as a Software as a Service (SaaS) product.  Our software product is designed to run in the cloud and our technology choices reflect that. We work in Angular, .NET Core, Azure SQL, C# technologies in the Microsoft Azure cloud.
Responsibilities
Work in partnership with Product Manager to draft, manage and maintain a roadmap based upon product and release strategy

Responsible for approval of feature requirements, user stories and user interface design changes when working with technical teams to ensure readiness for development

Gather input from Product Manager and key stakeholders in order to refine, prioritize, and maintain product backlog.

Ensure technical approach best fit for feature delivery and overall product health

Participate in sprint demonstrations, gather feedback from stakeholders, and approve or reject sprint deliverables

Partner with Product Manager to provide input on timing and readiness of planned production releases

Coordinate and assist with beta process and resolution of product release issues across stakeholders and with development team

Identify and manage risks at the release and development team level

Participate in (and in some cases lead) daily stand-ups, refinement, story review, sprint planning, and retrospectives

Provide customer production issue escalation assistance and oversight to ensure resolution

Ensure that training content is created and delivered for new product functionality

For regulated products, such as Eaglesoft and Fuse, assist with quality related tasks and complete quality training as required
Critical Competencies:
Ethics and Integrity:  Acts consistently and makes decisions in the organization's best interest.
Customer Focus: Makes customer and their needs the primary focus on one's actions.
Drive for Results: Demonstrates drive, determination, and ownership to achieve both results and success.
Technical Expertise: Demonstrates and maintains technical and professional skills or knowledge in position-related areas.
Problem Solving:  Uses logic and analytical methods to identify solutions resulting in effective problem resolution.
Self-Management:  Manages time and resources and balances competing demands to ensure work is completed.
Collaboration: Works effectively with others to achieve a common goal.
Working Conditions:


Travel: This position may require occasional travel. 
Qualifications
Bachelor's Degree in a related field preferred or a combination of equivalent education and experience
At least 7 years of experience in a similar technology-related role that includes process/product design, project/product planning, and decision-making authority.
Experience in an Agile (Scrum) teams
Relentless desire to learn more
Passionate about professionalism, products, and customers
Able to align multiple stakeholders about competing priorities
An Equal Opportunity Employer
Patterson Companies, Inc. is an equal opportunity employer. All qualified applicants will receive consideration for employment without regard to race, color, religion, sex, sexual orientation, gender identify, disability or protected veteran status.
Apply
Join our Community
Join our network for company updates and future employment opportunities.
Connect with us!
The Patterson Companies Difference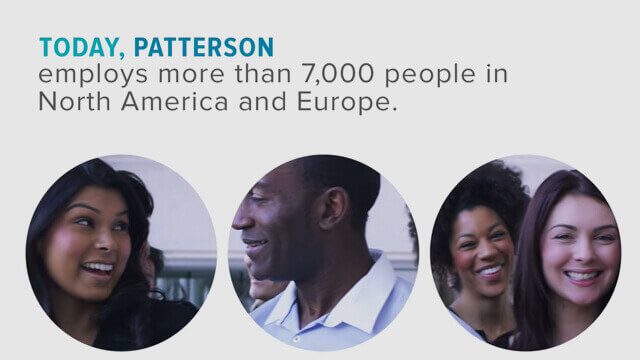 Corporate Responsibility
At Patterson Companies, we measure success by the strength of our relationships with our clients, customers and employees. From working with our partners to bring innovation solutions and provide best-in-class experience to our customers, to supporting employee volunteerism large and small, we're committed to building strong connections to support the communities we live and work in. Learn more about our corporate responsibility, click here.
Our Mission
Be a part of a great organization with a special mission: to be the market leading dental and animal health company supplying technology, marketing, support and logistics to maximize customer success. We connect expertise to inspired ideas, products and services and create a relevant, memorable difference in the lives of our clients, customers and employees. To learn more about our Mission and Values click here.