SAP Data Analyst II
Job Location Eagan, Minnesota
Job ID 2019-9735
Apply
Overview
The Data Analyst promotes the integrity of Patterson's data across the enterprise, ensuring the data can support transactional processes, reporting and metrics, and analytics products. The Data Analyst uses best practices for process improvement and technology projects to understand the data to be created and used, ensure the process and technology is designed and developed to efficiently create and maintain quality data, and map data conversions as needed. The Data Analyst is responsible for knowing the data needed to support the process, the metrics or key performance indicators (KPIs) used to evaluate the success of the process, and working closely with Business Analysts and BI Analysts on projects to ensure the needs are clearly defined and met by data.
Responsibilities
Understand and maintain data definition and uses (metadata), for example: create a data definition in Information Value Management (IVM).

Create data requirements and data mapping documents for business processes or technology projects

Assist in designing master data entry business processes with master data entry teams

Analyze data for quality, utilizing data profiling and analysis techniques (ex: Winshuttle Query or HANA Studio analysis)

Research and recommend process or technology improvements for the quality of data being created or used (ex: Winshuttle workflow process)

Define data quality evaluation tools to enable end users to assess data quality and improve data quality (ex: Info Steward reports / dashboard)

Document data definition or data entry processes to assist with training activities and support Data Entry teams
Qualifications
Minimum Qualifications:
Bachelor's Degree in MIS, IT, Computer Science or related field of study, or equivalent combination of education and experience

At least 2 years of experience in data analysis

Attention to detail and accuracy when dealing with large amounts of data

Ability to communicate effectively verbally and in writing

Customer-focused and collaborative attitude
Preferred Qualifications:
Data Management tool experience specific to Information Steward, Data Services, Winshuttle

Experience with Master Data Management solutions like SAP MDG or Informatica

SQL or other comparable language aptitude

SAP experience, especially CR or ECC
An Equal Opportunity Employer
Patterson Companies, Inc., is an equal opportunity employer. We consider all qualified applicants without regard to race, religion, color, sex, national origin, age, sexual orientation, gender identity, disability or veteran status, among other factors.
Apply
Join our Community
Join our network for company updates and future employment opportunities.
Connect with us!
The Patterson Companies Difference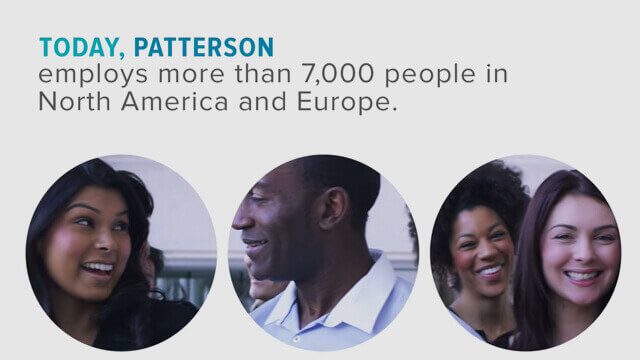 Corporate Responsibility
At Patterson Companies, we measure success by the strength of our relationships with our clients, customers and employees. From working with our partners to bring innovation solutions and provide best-in-class experience to our customers, to supporting employee volunteerism large and small, we're committed to building strong connections to support the communities we live and work in. Learn more about our corporate responsibility, click here.
Our Mission
Be a part of a great organization with a special mission: to be the market leading dental and animal health company supplying technology, marketing, support and logistics to maximize customer success. We connect expertise to inspired ideas, products and services and create a relevant, memorable difference in the lives of our clients, customers and employees. To learn more about our Mission and Values click here.