Small Equipment Repair Specialist
Job Location Eagan, Minnesota
Job ID 2019-9421
Apply
Overview
The Small Equipment Repair Specialist is responsible for the inspection of, cleaning, repair, and condition testing for small dental equipment which could include sterilizers and handpieces. These items are fully restored on site and returned to each customer in a like-new condition.
Why join Patterson Dental National Repair?
Patterson Companies is an industry-leading specialty distributor serving the dental, veterinary and rehabilitation supply markets. Driven to meet the needs of healthcare professionals in these growing markets, Patterson provides a total-package approach to doing business. Employees at the National Repair Center have been working with dentists for decades and understand how important handpieces and other small equipment are to a practice.  Our customers benefit the knowledge that comes from our certified technicians who can diagnose and fix nearly any issue, as well as the convenience and peace of mind that come with relying on one trusted partner for everything they need.
Responsibilities
As a Small Repair Equipment Specialist you will:
Repair Dental Items:
Read schematics and diagrams.

Disassemble and clean items.

Repair and test to ensure items is ready to be returned using hand tools.

Assist in identifying items that need to be sent to manufactures for repair.
Inventory Control:
Monitor inventory levels and request parts stock.

Transfer parts between warehouses to complete repairs.

Increase/decrease stock levels based on usage.

Conduct annual physical inventory, as well as regular spot check.
Communication:
Contact manufactures for repair assistance or part inquiries.

Articulate repair situations and findings with customers.

Utilize other team members for repair assistance.

Partner with customer experience coordinators to create customer repair estimates.
Computer Skills:
Utilize Microsoft Office products to track repair information.

Proficient typing skills are necessary.
Qualifications
Small Equipment Repair Specialist Minimum Qualifications:
High school diploma or equivalent.

Must have a mechanical aptitude.

Expresses strong customer service orientation through excellent written and verbal/phone communication skills.

Ability to read and understand assembly drawing and instructions.

Uses technology with efficiency and possesses basic computer skills, including knowledge in Microsoft 365/MS Office.

Ability to positively contribute to the team environment by taking initiative to learn and improve upon skillsets.

Outstanding troubleshooting and problem-solving skills.

Ability to multi-task in a fast paced environment.

One year minimum in call center, retail, or alike customer service environment.
Small Equipment Repair Specialist Preferred Qualifications:
Associate degree or equivalent trade school completion.

Previous repair experience or customer service experience.
An Equal Opportunity Employer
Patterson Companies, Inc., is an equal opportunity employer. We consider all qualified applicants without regard to race, religion, color, sex, national origin, age, sexual orientation, gender identity, disability or veteran status, among other factors.
Apply
Join our Community
Join our network for company updates and future employment opportunities.
Connect with us!
The Patterson Companies Difference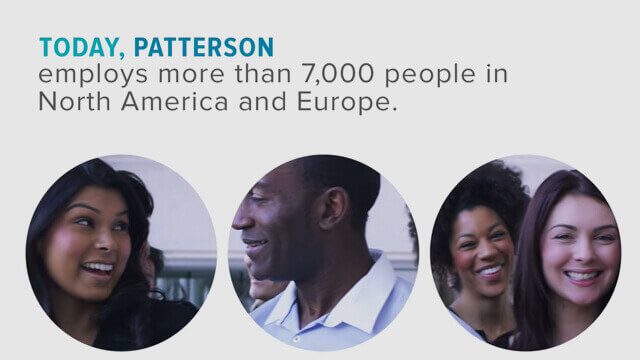 Corporate Responsibility
At Patterson Companies, we measure success by the strength of our relationships with our clients, customers and employees. From working with our partners to bring innovation solutions and provide best-in-class experience to our customers, to supporting employee volunteerism large and small, we're committed to building strong connections to support the communities we live and work in. Learn more about our corporate responsibility, click here.
Our Mission
Be a part of a great organization with a special mission: to be the market leading dental and animal health company supplying technology, marketing, support and logistics to maximize customer success. We connect expertise to inspired ideas, products and services and create a relevant, memorable difference in the lives of our clients, customers and employees. To learn more about our Mission and Values click here.