Veterinary Software Sales Specialist
Job Location Effingham, Illinois
Job ID 2019-9521
Apply
Overview
At Patterson Companies, our sales representatives provide products, equipment, technology and innovative solutions to help dental and animal health professionals across North America care for their clients and advance their businesses. We're looking for sales professionals who:
Are committed to developing and maintaining strong business relationships
Bring a customer-first approach to providing recommendations and solutions
Use sound strategies and a creative approach to drive sales and provide exceptional service
Establish your new sales career at Patterson Companies where you can achieve your professional goals while helping our customers succeed.
Hours:Full Time
Experience: Mid-level
Travel: Occasional to Regular
Success Profile
What makes a successful sales representative at Patterson Companies? Check out the traits we're looking for and see if you have the right mix.
Consultative
Critical thinker
Customer-focused
Resilient
Self-starter
Tenacious
Rewards
Health and Well-being

Retirement and Savings Program

Compensation

Professional Development

Employee Discount Programs

Vehicle Program
Working at Patterson
"My favorite part of being a Patterson rep is having business meetings to ask pertinent questions to unveil our client's needs, struggles, and desires and follow up with solutions to build rapport and trust for long lasting relationships." – Tim A., Dental Sales Representative
"As a Patterson sales rep, every day brings new challenges but familiar faces. I get to team up with an incredible inside support staff and many manufacturer representatives to bring unparalleled support to the doctors and practices we serve." – Kristi H., Dental Sales Representative
"With Patterson's support, it allows me to help the customer develop effective businesses and production practices by delivering the latest information on products, programs, protocols and innovation that helps them maximize their business outcomes."
– Doug S., Animal Health International Sales Representative
Responsibilities
Overview
The Patterson Veterinary Software Sales Specialist is responsible for developing client relationships and generating sales revenue by selling Patterson Technology products.  The Software Sales Specialist will balance client needs with company objectives and policies.
This person communicates effectively and persuasively to a high volume of people throughout the workday.  They apply communication skills primarily over the phone.  The Technology Specialist has the ability to repetitively overcome rejection from potential clients.
This person will be familiar with Patterson service offerings and be aware of competitive products in the market.  They know the key differentiators that make Patterson technology stand out.
Responsibilities
·         Sells Patterson Technology products
·         Achieves sales goals as outlined by the Inside Sales Manager
·         Initiates outbound calls to prospective clients, including some who have previous experience with Patterson
·         Receives inbound calls on a daily basis from prospective clients
·         Proactively contacts customers for potential sales
·         Recognizes opportunities for customer revenue growth
·         Prepares sales reports as necessary
·         Represents Patterson as the first line of contact for clients looking for technology solutions
·         Stays current with product and industry information
·         Prepares quotes
·         Submits orders to branches or corporate office for processing
·         Establishes and maintains relationships with customers and potential customers
·         Has limited flexibility regarding pricing
·         Works with outside employees for integrated solutions
·         Required to travel
·         Performs other duties as assigned
Critical Competencies:
Action Orientation:  This person has a positive attitude and goes the extra mile, even when under pressure to deliver.  They are focused on a successful outcome for Patterson and the client they are serving.
Communication:  This person is an effective listener who checks with their audience to make sure that they have correctly captured requirements.  They change their language for their audience but always strive to be accurate, clear and concise.
Results Focus:  They are goal-oriented and very driven.  This person is always raising their own standard of performance and finding creative ways to get through challenges while always adhering to Patterson policies.  They are effective at managing their own time to close sales and maximize results.
Self Management:  This person is excellent at time management.  They understand the priorities required for being successful in their role and focus on those priorities first.
Customer Engagement:  This person focuses on finding the best solution for the customer.  They listen to the customer not only to understand requirements but also to build a relationship.  They find out what is going on in the industry so they can be an informed, valued partner with the client.
Interpersonal Effectiveness: This person needs to build rapport quickly.  They always maintain a positive attitude, even in a stressful situation.  When talking with others, they have the conversational skills to know when it's appropriate to talk and when it's even more valuable to listen.
Business Acumen:  This person understands the basics of their client's business.  They use that understanding to present business solutions that will help a client achieve their goals.  They do this in a way that demonstrates an awareness of and sensitivity to the complexities of the client organization.
Qualifications
Minimum Qualifications:
Some travel required

Previous sales experience.

Excellent verbal communication skills

Self-motivated with desire to succeed

Strong organizational skills
Preferred Qualifications:
Bachelor's Degree in business, marketing or related field strongly preferred

2 Years Sales Experience

Industry experience
An Equal Opportunity Employer
Patterson Companies, Inc., is an equal opportunity employer. We consider all qualified applicants without regard to race, religion, color, sex, national origin, age, sexual orientation, gender identity, disability or veteran status, among other factors.
Join our Community
Join our network for company updates and future employment opportunities.
Connect with us!
The Patterson Companies Difference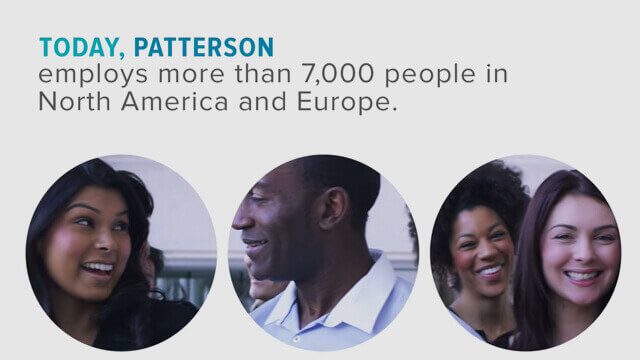 Corporate Responsibility
At Patterson Companies, we measure success by the strength of our relationships with our clients, customers and employees. From working with our partners to bring innovation solutions and provide best-in-class experience to our customers, to supporting employee volunteerism large and small, we're committed to building strong connections to support the communities we live and work in. Learn more about our corporate responsibility, click here.
Our Mission
Be a part of a great organization with a special mission: to be the market leading dental and animal health company supplying technology, marketing, support and logistics to maximize customer success. We connect expertise to inspired ideas, products and services and create a relevant, memorable difference in the lives of our clients, customers and employees. To learn more about our Mission and Values click here.