Retail Sales Representative
Job Location El Paso, Texas
Job ID 2019-9607
Apply
Overview
Animal Health International, a premier leader in animal health products and supplies has an opening to join our team. We are currently seeking a Retail Sales Representative to assist retail customers and sell merchandise from either the store or showroom. If you are customer serviced oriented and like to work with a dynamic team, this could be the oppoturnity you are looking for. If you happen to be bilingual (Spanish/English)...even better!
Responsibilities
Responsibilities and essential job functions include but are not limited to the following:
Transact all business in accordance to Animal Health International Inc.'s business code of ethics and conduct.

Greet walk-in customers

Maintain a clean and attractive store appearance

Complete all steps of a customer transaction

Place new merchandise on display

Fill orders in their entirety prior to sending out paper work

Display key seasonal products

Enter data of sales orders from route salesman and retail customers

Take inventory of stock

Requisition merchandise from stockroom

Answer the telephone and assist the customer

Replenish the retail stock daily

Accountable for balancing assigned cash tray

Accountable for daily cash deposits and daily receivables deposit including cover sheets and taking deposits to the bank
Other Duties/Responsibilities:
Qualifications
Knowledge, Skill and Ability:
Flexible

Strong interpersonal skills

Good verbal and written communication skills

Computer skills, including MS Office

Knowledge of how to operate a cash register

Knowledge of products and programs

Familiar with banking and accounting principles
Education or Formal Training:
High School Diploma or equivalent certification
Experience:
A background in farm or ranch work along with experience in working with livestock is helpful

One year of general office experience

One year of retail sales or merchandising experience

Warehouse experience a plus
Environment:
Material and Equipment Directly Used:
Computer, including MS Office and other software

General Office Equipment

Cash Register
Working Environment/Physical Activities:
Loading and unloading vehicles

Move up to 75 lbs.

Moving 75% of the time
Positions Reporting to This Position:
An Equal Opportunity Employer
Patterson Companies, Inc., is an equal opportunity employer. We consider all qualified applicants without regard to race, religion, color, sex, national origin, age, sexual orientation, gender identity, disability or veteran status, among other factors.
Apply
Join our Community
Join our network for company updates and future employment opportunities.
Connect with us!
The Patterson Companies Difference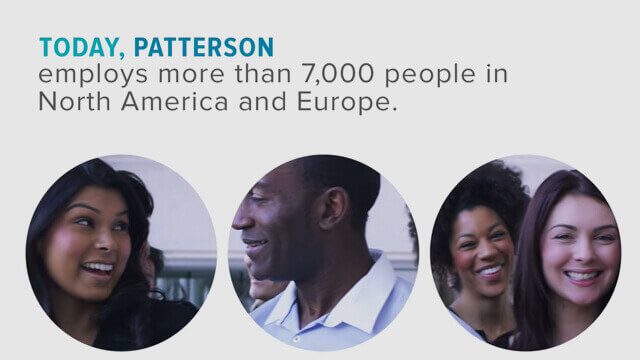 Corporate Responsibility
At Patterson Companies, we measure success by the strength of our relationships with our clients, customers and employees. From working with our partners to bring innovation solutions and provide best-in-class experience to our customers, to supporting employee volunteerism large and small, we're committed to building strong connections to support the communities we live and work in. Learn more about our corporate responsibility, click here.
Our Mission
Be a part of a great organization with a special mission: to be the market leading dental and animal health company supplying technology, marketing, support and logistics to maximize customer success. We connect expertise to inspired ideas, products and services and create a relevant, memorable difference in the lives of our clients, customers and employees. To learn more about our Mission and Values click here.