Software Engineer II - Turnkey Computer Systems
Job Location Fargo, North Dakota
Job ID 2019-9616
Apply
Overview
Turnkey Computer Systems is hiring a Software Engineer to join our team in Fargo, ND! 
Turnkey, a division of Patterson Companies, is the leading supplier of operations management and accounting systems to the cattle feeding industry.
This newly created position will join an established team of developers and will be focused on a crucial role in the development of our next generation of software systems. 
Over the next few years we will be creating several new modules using Cloud-based technology and Mobile components.  This is an exciting opportunity to be at the forefront of application development and a chance to work with some cutting-edge technology to help us establish a premiere line of products for our customers. 
Our software has been on the leading edge of the cattle feeding industry for over twenty-five years, and we continue to enhance and refine it to meet the needs of our customers.  From multi-user, multi-company database applications, to remote, web, and wireless network connections, we provide a "turnkey" level of service, value, and flexibility.  Turnkey applications and systems track over 10,000,000 head of cattle per year in the U.S. and Canada.
Responsibilities
The main responsibilities of this role include:
Assist in the design, development, testing, and maintenance of various software applications and services

Research, document, implement and modify software specifications throughout the development life cycle
Qualifications
Minimum Qualifications:
Bachelor's Degree in Computer Science, Management Information Sciences, Mathematics, Engineering, Business, or area of functional responsibility preferred, or a combination of equivalent education and experience

3+ years of professional programming experience using Java, C#, or another equivalent Object-Oriented Programming language

Experience using a distributed source code management system such as GIT

Experience using various data platforms such as MS SQL Server, MySQL, and MongoDB

Knowledge of all aspects of application development and project life cycles, including Agile and Scrum practices

Proficiency with office productivity tools such as Microsoft Excel, Word and PowerPoint

Must complete a basic OO programming exercise as part of the application process
Desired Qualifications
Excellent understanding of coding methods and best practices, including fluency in object-oriented analysis, test driven development (TDD/BDD), and domain driven design (DDD)

Experience using cloud-based services such as AWS, Azure, or Google Cloud Platform

Experience using containerized architectures and related tools such as Docker and Kubernetes

Experience using Spring Boot, Data, Cloud, and AMQP frameworks

Knowledge of event sourcing, CQRS, and message queues such as RabbitMQ

Familiarity with development targeting mobile devices
An Equal Opportunity Employer
Patterson Companies, Inc., is an equal opportunity employer. We consider all qualified applicants without regard to race, religion, color, sex, national origin, age, sexual orientation, gender identity, disability or veteran status, among other factors.
Apply
Join our Community
Join our network for company updates and future employment opportunities.
Connect with us!
The Patterson Companies Difference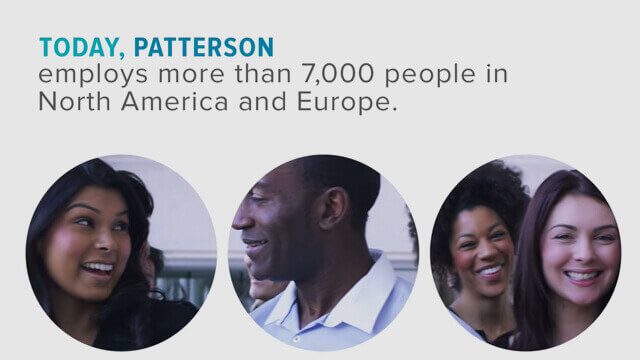 Corporate Responsibility
At Patterson Companies, we measure success by the strength of our relationships with our clients, customers and employees. From working with our partners to bring innovation solutions and provide best-in-class experience to our customers, to supporting employee volunteerism large and small, we're committed to building strong connections to support the communities we live and work in. Learn more about our corporate responsibility, click here.
Our Mission
Be a part of a great organization with a special mission: to be the market leading dental and animal health company supplying technology, marketing, support and logistics to maximize customer success. We connect expertise to inspired ideas, products and services and create a relevant, memorable difference in the lives of our clients, customers and employees. To learn more about our Mission and Values click here.