Field Support Technician
Job Location Garden City, Kansas
Job ID 2018-6885
Apply
Overview
Turnkey Computer Systems LLC, a Patterson Company, is the premier provider of accounting and management solutions to the feedyard industry. We bring Information and Management together.
We are currently seeking a Field Service Technician with the following attributes: willing to work independently and/or in a group environment to provide technical support and training to customers on proprietary software products, hardware, and business solutions.
Responsibilities
Responsibilities and essential job functions include but are not limited to the following:
Transact all business in accordance to Animal Health International Inc.'s business code of ethics and conduct.
Provide technical support, maintenance, and repair for Animal Health International Inc.'s software offerings
Prepare list of necessary equipment for each installation
Responsible for software installation projects
Train customers in the use of software
Provide technical assistance as needed
Available for consultation and support which includes nights and weekends on-call as assigned
Qualifications
Knowledge, Skill and Ability:
Strong interpersonal skills
Strong verbal and written communication skills
Ability to prioritize
Good analytical skills
Creative
Self-Motivated
Strong customer service skills
Quick learner
Energetic and Passionate
Ability to climb on roof tops and mount antennas
Computer skills, including MS Office
Ability to design, install, and configure simple networks
Education or Formal Training:
High School Diploma is required
Bachelors degree in an IT related field or equivalent experience
Experience:
Two years of related experience is a plus
Agricultural/Beef industry experience is a plus
Troubleshooting Windows operating system
Wireless networking experience preferred
Material and Equipment Directly Used:
Computer, including MS Office and other software systems
General office equipment
Hand tools & drill
Move up to 60 lbs
Travel 50-60% of the time, including some overnight travel
An Equal Opportunity Employer
Patterson Companies, Inc., is an equal opportunity employer. We consider all qualified applicants without regard to race, religion, color, sex, national origin, age, sexual orientation, gender identity, disability or veteran status, among other factors.
Apply
Join our Community
Join our network for company updates and future employment opportunities.
Connect with us!
The Patterson Companies Difference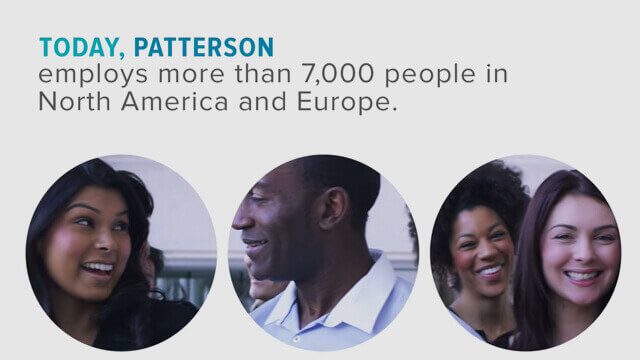 Corporate Responsibility
At Patterson Companies, we measure success by the strength of our relationships with our clients, customers and employees. From working with our partners to bring innovation solutions and provide best-in-class experience to our customers, to supporting employee volunteerism large and small, we're committed to building strong connections to support the communities we live and work in. Learn more about our corporate responsibility, click here.
Our Mission
Be a part of a great organization with a special mission: to be the market leading dental and animal health company supplying technology, marketing, support and logistics to maximize customer success. We connect expertise to inspired ideas, products and services and create a relevant, memorable difference in the lives of our clients, customers and employees. To learn more about our Mission and Values click here.