Customer Service Representative I
Job Location Greeley, Colorado
Job ID 2019-9758
Apply
Overview
Assist customers and sales representatives in order entry requirements with professionalism, skill, and expediency.
Responsibilities
Responsibilities and essential job functions include but are not limited to the following:
Transact all business in accordance to Animal Health International Inc.'s business code of ethics and conduct.

Accurately process customer transactions such as orders, returns, quotes, etc.

Maintain a current knowledge of company products, policies and procedures

Handle incoming calls, order entry, field customer service problems, etc.

Promote teamwork and a positive attitude

Responsible for communicating any pertinent information received from customers to the OSR

Maintain a good, workable file of reference material

Setup and maintain customer files
Other Duties/Responsibilities:
Qualifications
Knowledge, Skill and Ability:
Good verbal and written communication skills

Good interpersonal skills

Good planner with strong organization skills

Able to exhibit enthusiasm and positivity

Able to develop and maintain an attitude of cooperation with others

Good keyboard and 10-key skills

Computer skills, including MS Office

Able to be professional at all times
Education or Formal Training:
High School Diploma required
Experience:
Clerical experience preferred

Computer experience preferred

Previous phone experience preferred
Environment:
Material and Equipment Directly Used:
General Office Equipment

Computer, including MS Office and other software
Working Environment/Physical Activities:
Stationary position 75% of the time

Operate a keyboard and 10-key frequently

Move up to 30 lbs.

Travel less than 10% and only as required
Positions Reporting to This Position:
An Equal Opportunity Employer
Patterson Companies, Inc., is an equal opportunity employer. We consider all qualified applicants without regard to race, religion, color, sex, national origin, age, sexual orientation, gender identity, disability or veteran status, among other factors.
Apply
Join our Community
Join our network for company updates and future employment opportunities.
Connect with us!
The Patterson Companies Difference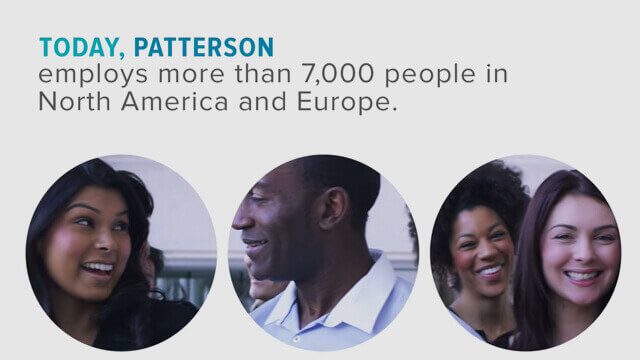 Corporate Responsibility
At Patterson Companies, we measure success by the strength of our relationships with our clients, customers and employees. From working with our partners to bring innovation solutions and provide best-in-class experience to our customers, to supporting employee volunteerism large and small, we're committed to building strong connections to support the communities we live and work in. Learn more about our corporate responsibility, click here.
Our Mission
Be a part of a great organization with a special mission: to be the market leading dental and animal health company supplying technology, marketing, support and logistics to maximize customer success. We connect expertise to inspired ideas, products and services and create a relevant, memorable difference in the lives of our clients, customers and employees. To learn more about our Mission and Values click here.