Field Installer/Assembler
Job Location Greeley, Colorado
Job ID 2019-9376
Apply
Overview
The Field Installer / Assemblier will assemble, service, maintain, and install animal health production equipment at various customer sites. 
Responsibilities
GENERAL PURPOSE
Contribute to the profitability of Animal Health International, Inc. through the assembly, service, maintenance, and installation of Micro Tech equipment
Perform manufacturing and test functions to meet production requirements.
Perform equipment installations as required.
Maintain new and repair parts inventory as required.
Support management and technical staff in maintaining FDA compliance in all Micro Tech operations.
ETHICS
Maintain strict compliance with all Animal Health International, Inc. Polices and Procedures including but not limited to accounting, finance, and credit policies and procedures.
Maintain the highest ethical standards in handling company affairs.
Maintain strict compliance to laws and regulations of Federal and State Regulatory Agencies including FDA, D.O.T., EEOC, etc.
If applicable, execute Department of Transportation regulations for Driver Qualification, safety, vehicle maintenance, and log book requirements in a timely and efficient manor.
Qualifications
ESSENTIAL DUTIES/RESPONSIBILITIES
Hardware manufacturing for Technologies equipment:
Proficient in electrical and mechanical assembly.
Proficient in software setup and operation.
Proficient in mechanical and electronic operation.
Efficient in equipment trouble-shooting and repair.
Proficient in electrical and mechanical print reading.
Develop and maintain high standard of quality in equipment assembly.
Develop and maintain high standard of quality in equipment setup and testing.
Direct all equipment and software change requests through the Manufacturing Manger.
All equipment modifications from standard operation require prior approval by Technologies management team.
Installation:
Prepare equipment and installation materials for the install prior to the installation process at customer sites.
Maintain parts inventory in installation trailer and truck to cover install needs efficiently.
Maintain an adequate installation parts inventory in the shop to assure efficiency and cost effectiveness.
Responsible for expeditious and accurate equipment installation at the customer site.
Team leader during the install process. Maximize use of resources and time to develop the most efficient install operation.
Be proficient in electrical wiring, including installing conduit and 110/220 vac power circuits.
Be proficient in installation requirements and operational setup of all Technologies equipment.
Maintain high standard of quality in equipment installation.
Proficient in HMI software operation for dispensing equipment and feed batching systems.
Weekly overnight travel is required.
Reporting:
When out of the shop on an install communicate project status at least once a day with Manufacturing Manager or designated colleague.
Weekly status reports (verbal or written) are to be given to the Manufacturing Manager on equipment build and install operations.
Complete all installation and testing documentation requirements in a timely manor.
Complete all assembly and testing documentation requirements in a timely manor.
Maintain D.O.T. log book.
Parts Inventory:
Receiving
Count all parts received and match to packing list on a daily basis.
Place parts in stock after completion of receiving paperwork. If parts cannot be placed in stock immediately, then store them in secured area until stocking can be completed.
Check physical condition of parts received and notify Purchasing Agent immediately of any damage. If damage is found at time of delivery, note on shippers receiving paperwork.
Turn receiving paperwork into Purchasing Agent when order is complete.
Shipping
Check parts out of inventory to proper territory and machine.
Package parts for shipment and fill out proper shipper documentation (UPS, Fed Ex, etc).
Count product during physical counts and audits.
OTHER DUTIES/RESPONSIBILITIES
Rebuild/repair parts and maintain repaired parts inventory.
Keep expenditures in line with budget and company policy.
Maintain assigned equipment (vehicle, tools, etc.) according to company policy.
Keep workplace (office, shop, storage area, warehouse, etc.) organized and clean.
Work with management staff in research and design process for equipment and process improvement.
Encourage teamwork and communications.
Carry out all directions given by superior in a timely and efficient manner.
JOB QUALIFICATIONS
KNOWLEDGE, SKILL, AND ABILITY:
Good oral and written communication skills.
Ability to communicate with people at all levels of responsibility in Lextron and customer locations.
Ability to teach and instruct others in equipment operations and processes.
Efficient planner/organizer.
Self motivated and self starter.
Computer literate with working knowledge of Windows operating platform and apps.
EDUCATION OR FORMAL TRAINING:
Technical degree, agriculture-related background, or equivalent experience.
EXPERIENCE:
1 year of work experience in equipment installation and service.
MATERIAL AND EQUIPMENT DIRECTLY USED:
Digital volt meter                    Personal Computer                  Programmable Logic Controller
WORKING ENVIRONMENT/PHYSICAL ACTIVITIES: 
Frequent exposure to various animal feed additive material.
Individual must be able to lift single containers weighing 50 lbs. on a frequent basis and single containers weighing 100 lbs. intermittently.
This job does not require individual to be D.O.T. qualified.
An Equal Opportunity Employer
Patterson Companies, Inc., is an equal opportunity employer. We consider all qualified applicants without regard to race, religion, color, sex, national origin, age, sexual orientation, gender identity, disability or veteran status, among other factors.
Apply
Join our Community
Join our network for company updates and future employment opportunities.
Connect with us!
The Patterson Companies Difference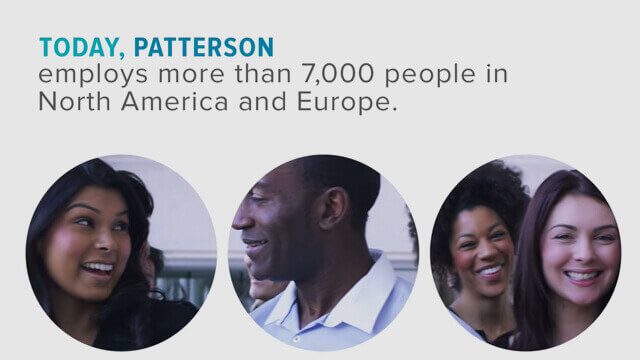 Corporate Responsibility
At Patterson Companies, we measure success by the strength of our relationships with our clients, customers and employees. From working with our partners to bring innovation solutions and provide best-in-class experience to our customers, to supporting employee volunteerism large and small, we're committed to building strong connections to support the communities we live and work in. Learn more about our corporate responsibility, click here.
Our Mission
Be a part of a great organization with a special mission: to be the market leading dental and animal health company supplying technology, marketing, support and logistics to maximize customer success. We connect expertise to inspired ideas, products and services and create a relevant, memorable difference in the lives of our clients, customers and employees. To learn more about our Mission and Values click here.