Marketing Specialist
Job Location Greeley, Colorado
Job ID 2019-9761
Apply
Overview
The Animal Health Marketing Specialist will report to the Channel Marketing Manager in support of internal and customer facing technology solutions for the Animal Health Business Unit.
Working closely with sales leadership and technology leads to help develop and drive technology strategies. This self-motivated contributor will have responsibility for developing marketing plans for companion, production, and micro ingredient feed additive solutions for internal and external customers.
Responsibilities
Technology Marketing Specialist Responsibilities:
Assist in the development marketing plans for animal health technology product and solutions across all customer segments.
Develop and implement promotional programs with sales & technology leaders to drive company objectives.
Works with sales team to segment customer base and target technology solutions.
Conducts market research/assessments to determine opportunities for new technology products or platforms across all business segments.
Develop programs to drive leads and booth traffic at company attended tradeshows.
Works with sales and product development team to define technology bundling and pricing models.
Develop and launch campaigns for new technology products and platforms.
Understand the customer needs and identify requirements for new products.
Work closely with company's creative team to create collateral for internal/external promotion and communications.
Identify new trends in technology solutions for all species.
Assists in developing and managing technology marketing budget.
Provide guidance to customer support teams at Turnkey and PTC.
Performs other Marketing Specialist duties as required.
Qualifications
Technology Marketing Specialist Qualifications:
Bachelor's degree or equivalent experience in marketing or business-related field.
3+ years of marketing experience in related field.
Strong knowledge of marketing methodologies.
Experience creating a competitive market analysis.
Ability to identify customer needs and trends.
Familiarity with voice of the customer methods.
Ability to understand customer needs and translate into new product requirements.
Strong technical background.
Creative and energetic with excellent time management.
Organizational and problem solving skills.
Strong presentation skills and a collaborative work style.
Excellent verbal, written and interpersonal communication skills.
Travel 10-15% of the time.
An Equal Opportunity Employer
Patterson Companies, Inc., is an equal opportunity employer. We consider all qualified applicants without regard to race, religion, color, sex, national origin, age, sexual orientation, gender identity, disability or veteran status.
Apply
Join our Community
Join our network for company updates and future employment opportunities.
Connect with us!
The Patterson Companies Difference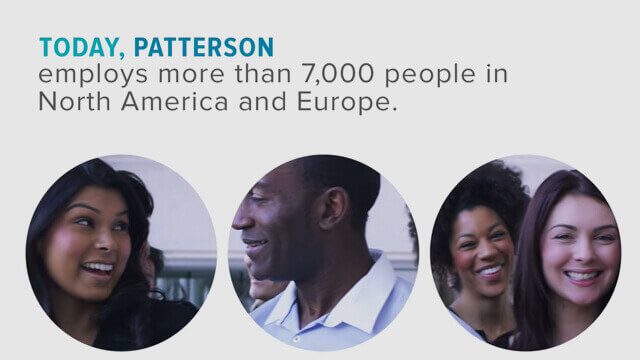 Corporate Responsibility
At Patterson Companies, we measure success by the strength of our relationships with our clients, customers and employees. From working with our partners to bring innovation solutions and provide best-in-class experience to our customers, to supporting employee volunteerism large and small, we're committed to building strong connections to support the communities we live and work in. Learn more about our corporate responsibility, click here.
Our Mission
Be a part of a great organization with a special mission: to be the market leading dental and animal health company supplying technology, marketing, support and logistics to maximize customer success. We connect expertise to inspired ideas, products and services and create a relevant, memorable difference in the lives of our clients, customers and employees. To learn more about our Mission and Values click here.