Private Label Brand Strategist
Job Location Greeley, Colorado
Job ID 2019-9464
Apply
Overview
As a Private Label Brand Strategist you will be responsible for implementation and support of private label initiatives and marketing programs to internal and external customers.
Why join Patterson?
Patterson Companies is an industry-leading specialty distributor serving the dental, veterinary, and animal health supply markets. Driven to meet the needs of healthcare professionals in these growing markets, Patterson provides a total-package approach to doing business.
Our customers benefit from a diverse platform of products and services, as well as the convenience and peace of mind that come with relying on one trusted partner for everything they need.
Responsibilities
Promotional Activities:
Create monthly marketing activities for all channels of business.

Manage tradeshow planning and promotional offers for national and regional shows.

Be a field resource for information and assistance regarding Patterson Private Label programs.

Assist graphic designer in ensuring monthly calendar is fully executed on time (monthly promotional flyers, email marketing, landing pages, digital ads, social media).

Work with regional sales teams to create custom programs for their needs

Attend trade shows to support various objectives (occasional travel may be required).
Communications:
Communicate program activity to the field sales reps and facilitate the newsletter on a monthly basis.

Reply to emails and calls with requests from the sales team for product information, marketing materials, costing, inventory levels, etc.

Ensure all products are properly enriched on company websites.
Reporting:
Track promotional ROI based on marketing calendar, monthly item tracker, and vendor partner sales reports.

Work with finance to ensure promotional billings are reviewed and tracked. 
Implement the private label business plan, including such tactics as:
Act as a liaison between the sales / private label team and internal and external customers.

Provide product knowledge and training on the Patterson private label products and initiatives as needed
Facilitate field support and training for private label products:
Marketing Materials (catalogs, product detailers, brochures, etc).

Oversee online App for field sales.

Product comparisons.

Provide additional administrative support for the Private Label department as requested.
New Products:
Assist with new product launch process ensuring each product has necessary information available prior to launch

Other Private Label Brand Strategist duties as assigned.
Qualifications
Private Label Brand Strategist Qualifications:
Bachelors degree in marketing or business related field is required.

Minimum of 2 years' of experience in marketing and promotional planning.

Demonstrated aptitude and enthusiasm for independently initiated learning pursuant to job responsibilities.

Ability to work with minimal direction while successfully meeting impending deadlines.

Expertise with Microsoft Office Software (Word, Excel, and PowerPoint).

Demonstrated ability to prioritize and successfully perform a variety of concurrent tasks with minimal direction.

Solid communication skills expertise.
Private Label Brand Strategist Preferred Qualifications:
Experience with copywriting.

Previous veterinary or animal health retail industry experience.

Skilled in collaborating with social media and graphic design teams.

Product marketing experience.
Patterson Companies, Inc. is an equal opportunity employer. All qualified applicants will receive consideration for employment without regard to race, color, religion, sex, sexual orientation, gender identify, disability or protected veteran status.
Apply
Join our Community
Join our network for company updates and future employment opportunities.
Connect with us!
The Patterson Companies Difference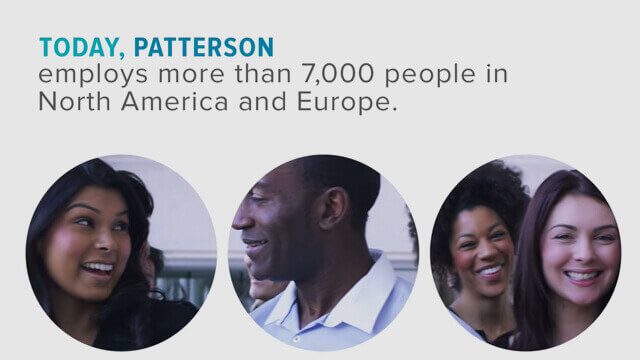 Corporate Responsibility
At Patterson Companies, we measure success by the strength of our relationships with our clients, customers and employees. From working with our partners to bring innovation solutions and provide best-in-class experience to our customers, to supporting employee volunteerism large and small, we're committed to building strong connections to support the communities we live and work in. Learn more about our corporate responsibility, click here.
Our Mission
Be a part of a great organization with a special mission: to be the market leading dental and animal health company supplying technology, marketing, support and logistics to maximize customer success. We connect expertise to inspired ideas, products and services and create a relevant, memorable difference in the lives of our clients, customers and employees. To learn more about our Mission and Values click here.