Procurement Coordinator
Job Location Greeley, Colorado
Job ID 2019-8671
Apply
Overview
Provides a wide variety of administrative tasks to support the Director of Purchasing and Purchasing Department processes. Monitors and maintains purchased inventory, as assigned by the Director of Purchasing.
Responsibilities
Essential Functions
Creates and maintains various purchasing reports for the department and vendor partners;

Communicates with vendors partners on purchasing and shipment issues;

Communicates with sales branches and distribution centers on inventory and purchasing issues;

Communicates and assists in resolution of issues with marketing, regulatory and accounts payable departments;

Manages and maintains vendor liability insurance compliance;

Schedules meetings and conference calls;

Prepares expense reports;

Distributes department's incoming mail and other correspondence;

Assists with processing purchase orders and monitoring the inventory needs at distribution centers;

Expedites orders and tracks back orders as needed;

Maintains confidentiality of all Corporate, personnel and research matters.

Performs other duties as assigned or requested.
Physical Requirements
Frequency       Requirement
90% daily        Sitting
60% daily        Telephone use
100% daily      Computer use
Work Environment
Work is performed in an office setting
This job description is subject to change, at management's discretion, at any time. 
Qualifications
Job Qualifications
Education/Training & Skills
Excellent verbal and written communication skills;

Excellent organizational, decision making and analytical skills;

Must have the ability to work independently within a team environment;

Ability to learn the fundamental concepts, practices and procedures of inventory control and procurement;

Ability to recognize, define, investigate and determine a creative solution to problems;

Solid computer skills, including Excel and Word;

Ability to develop partnership relationships with suppliers.
Relevant Work Experience
2+ years administrative experience in related business and/or Associates degree.
An Equal Opportunity Employer
Patterson Companies, Inc., is an equal opportunity employer. We consider all qualified applicants without regard to race, religion, color, sex, national origin, age, sexual orientation, gender identity, disability or veteran status, among other factors.
Apply
Join our Community
Join our network for company updates and future employment opportunities.
Connect with us!
The Patterson Companies Difference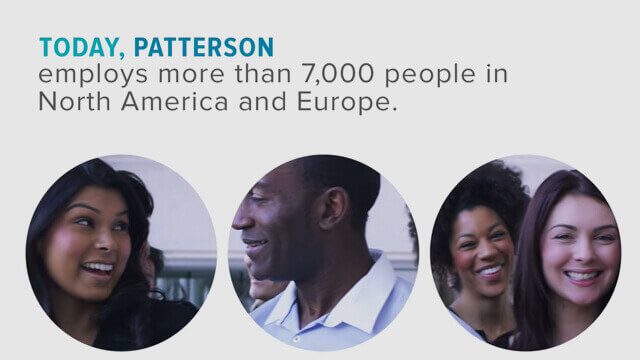 Corporate Responsibility
At Patterson Companies, we measure success by the strength of our relationships with our clients, customers and employees. From working with our partners to bring innovation solutions and provide best-in-class experience to our customers, to supporting employee volunteerism large and small, we're committed to building strong connections to support the communities we live and work in. Learn more about our corporate responsibility, click here.
Our Mission
Be a part of a great organization with a special mission: to be the market leading dental and animal health company supplying technology, marketing, support and logistics to maximize customer success. We connect expertise to inspired ideas, products and services and create a relevant, memorable difference in the lives of our clients, customers and employees. To learn more about our Mission and Values click here.