Supply Chain Master Data Specialist
Job Location Greeley, Colorado
Job ID 2019-8714
Apply
Overview
Responsible for the creation and updates to new and existing master data in order to ensure the accuracy and quality as well as maintaining appropriate documentation for audit purposes.  The position will maintain data accuracy and cleanliness by performing data integrity checks and cleansing, training and supporting requesters, along with researching and resolving issues.
Role will require frequent communication with branch and corporate personal and our vendors domestically and in Canada.
Success will depend on having a "customer first" attitude and a willingness to learn new functions and positively contribute to team performance.
Responsibilities
ESSENTIAL FUNCTIONS (MAJOR DUTIES):
Main Function Group 1— Master Data Setup/Maintenance
Process requests for master data (additions/modifications) in a timely and accurate manner, ensuring policies, procedures and SLAs are followed.

Work directly with internal business partners to ensure data requests are complete and comply with standards.

Assist in duplicate identification and data cleansing of master data loads as part of integration activities.

Assist in the development of forms, procedures and work instructions.
Main Function Group 2— Continuous Improvement
Contribute to creating and enforcing workflows to meet best business practices.

Leverage analytical tools to identify, research, and correct/update data discrepancies, duplicates, and stale dated records.

Establish rapport with branches and other Patterson teams, build effective relationships, and share wins and successes

Other tasks as assigned by manager
CRITICAL COMPETENCIES:
Flexibility: Easily adapts to new methods and procedures and helps others embrace change. Responds to change initiatives with positive outlook and energy. Understands the value of maintaining the business culture.
Communication: Actively listens and communicates clearly and effectively both verbally and non-verbally. Understands the importance of relationships to ensure team success; demonstrates compassion and understand; open to other viewpoints in the interest of achieving best possible outcomes. Builds positive relationships, uses tact in sensitive situations; listens well to various points of view; relates well to others at all levels.
Self-Management: Understands how to manage their time by scheduling appropriate amounts of time to complete assignments, acting without procrastination, and focusing on the most important items first, and sets a positive example for team members.
Qualifications
Minimum Qualifications:
2yr Associate degree or equivalent work experience in a business-related field

Has organizational, problem solving and multi-tasking skills and shows a great attention to detail

Proficiency in Excel

Possesses strong interpersonal and communication skills

Strong customer orientation
Preferred Qualifications:
2yr Associate degree or equivalent work experience in a business-related field

SAP/ERP experience highly preferred

2-3 years in Master Data Setup
An Equal Opportunity Employer
Patterson Companies, Inc., is an equal opportunity employer. We consider all qualified applicants without regard to race, religion, color, sex, national origin, age, sexual orientation, gender identity, disability or veteran status, among other factors.
Apply
Join our Community
Join our network for company updates and future employment opportunities.
Connect with us!
The Patterson Companies Difference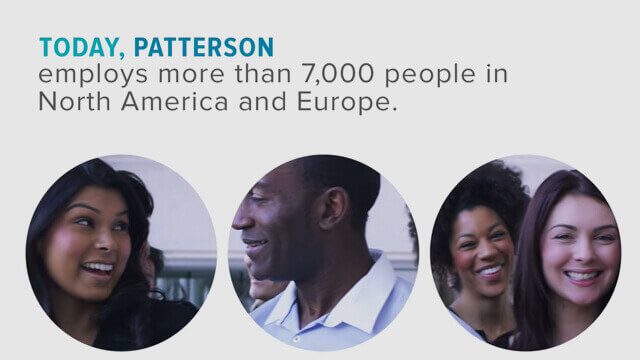 Corporate Responsibility
At Patterson Companies, we measure success by the strength of our relationships with our clients, customers and employees. From working with our partners to bring innovation solutions and provide best-in-class experience to our customers, to supporting employee volunteerism large and small, we're committed to building strong connections to support the communities we live and work in. Learn more about our corporate responsibility, click here.
Our Mission
Be a part of a great organization with a special mission: to be the market leading dental and animal health company supplying technology, marketing, support and logistics to maximize customer success. We connect expertise to inspired ideas, products and services and create a relevant, memorable difference in the lives of our clients, customers and employees. To learn more about our Mission and Values click here.