Seasonal Inoculant Service Technician
Job Location Hereford, Texas
Job ID 2019-8797
Apply
Overview
The Seasonal Inoculant Service Technician will assist our sales and service staff with the delivery, installation, service, and operation of forage and silage inoculant products and application systems. They will also assist in delivering feed ingredient delivery and servicing dispensing systems.
*This is a seasonal, full-time position, from September through December.*
Responsibilities
Help with installation, service, and repair of forage and silage inoculant dispensing systems

Support harvest crews by supplying mixed inoculant, checking inoculant application rate, and by checking silage moisture, chop length, and kernel size

Perform reconciliation of inoculant usage and inventory and maintain accurate records
Transact all business in accordance to Animal Health International's code of ethics and conduct
Deliver products and equipment to customers throughout the sales area as needed
Maintain a violation free driving record
Limited overnight travel
Other duties as assigned to the Inoculant Service Technician
Qualifications
High school diploma or equivalent experience is required.
Experience harvesting and storing agricultural crops
Experience operating and maintaining equipment
Great attention to detail
Ability to work well with customers and other employees
Ability to apply basic math skills to everyday situations
Strong mechanical aptitude
Awareness of hazards and ability to work safely around potentially hazardous conditions
Ability to work overtime and on weekends
Valid drivers license
Be able to lift, carry, and stack 50 lb. bags
An Equal Opportunity Employer
Patterson Companies, Inc., is an equal opportunity employer. We consider all qualified applicants without regard to race, religion, color, sex, national origin, age, sexual orientation, gender identity, disability or veteran status, among other factors.
Apply
Join our Community
Join our network for company updates and future employment opportunities.
Connect with us!
The Patterson Companies Difference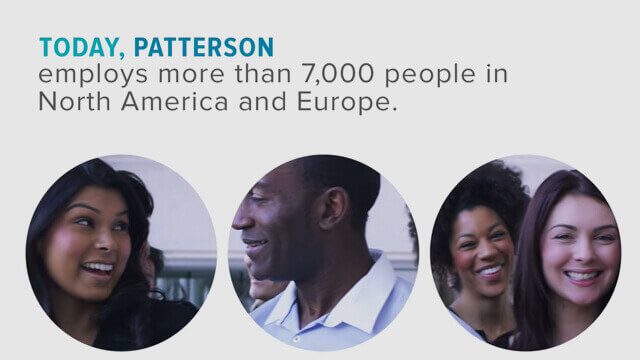 Corporate Responsibility
At Patterson Companies, we measure success by the strength of our relationships with our clients, customers and employees. From working with our partners to bring innovation solutions and provide best-in-class experience to our customers, to supporting employee volunteerism large and small, we're committed to building strong connections to support the communities we live and work in. Learn more about our corporate responsibility, click here.
Our Mission
Be a part of a great organization with a special mission: to be the market leading dental and animal health company supplying technology, marketing, support and logistics to maximize customer success. We connect expertise to inspired ideas, products and services and create a relevant, memorable difference in the lives of our clients, customers and employees. To learn more about our Mission and Values click here.