SAP FTM/Finance Functional Analyst III
Job Location Minneapolis, Minnesota
Job ID 2017-4921
Apply
Overview
Patterson Companies is going through an exciting period of change driven by the implementation of a new enterprise wide business system-SAP. We have an exciting opportunity on our SAP Center of Excellence Team. Processes and technology will require employees to learn new skills and capabilities and we are currently seeking an analytical, detail-oriented, collaborative SAP FTM/Finance Functional Analyst III. This role includes a technology and business process focus.As part of your role, you'll work as part of the SAP functional team to develop an understanding of the SAP system, including learning how to configure and test Patterson's SAP software in preparation to support it as we deploy it to the Patterson business.
Responsibilities
Major Duties:
Work directly with the finance, accounting, FSS (shared services), and other business areas to understand/improve the business processes supported by the SAP software solution area assigned as well as gain an understanding of the underlying business requirements being supported.

Learn the SAP software, it's design and setup, how to modify it and test it in assigned areas including complex cross functional configuration.

Engage in creating/updating documentation needed by various teams in the process of providing support to the SAP software solution.

Work with finance and business end users on issues that they are experiencing, including troubleshooting, analysis, and issue replication in a non-production environment.

Take ownership of issues and problems in SAP in your assigned areas; troubleshoot, propose solutions, work to confirm solutions, implement and unit test.

Participate in integration test cycles as a tester; learn how to use the testing tool for script maintenance and recording results.

Participate in Patterson Companies deployments of SAP to additional branches distribution centers.

Lead efforts within your business stream as well as across business streams to design/support the end to end business process and to ensure that SAP changes in your area have the desired down-stream impacts.

Lead project efforts within your area of expertise.

Performs other duties as assigned.
Critical Competencies:
Communication: Interacting with others through verbal and non-verbal means to present information in an engaging and understandable manner. The use of listening and other attending behaviors to gain a shared understanding of the topic at hand.
Customer Engagement: Engaging external customers and internal resources to achieve mutually beneficial outcomes in a way that provides an optimal experience for the customer.
Decision Making: Making high quality decisions in a timely manner, usually with less data and analysis than might be desired.
Prerequisite: Attributes of ethical behaviors, high personal standards, and sound work ethic all employers should expect of employees.
Problem Solving: Uses logic and analytical methods to identify solutions resulting in effective problem resolution. You will ask effective questions to gather information and data to clarify the details of the problem and analyze the data to understand patterns and translate into meaningful information. You explore options and recommend workable solutions.
Technical Expertise: Maintains current technical knowledge and best practices and uses that knowledge to help solve business problems for the organization. Able to ask effective questions to access details of a problem.
Qualifications
Minimum Qualifications:
Bachelor's Degree. Preferably in one of the following areas; Business/General management, IT/Management Information Systems, Finance/Accountingor similar

Excellent verbal and written communication skills.

Ability to communicate ideas in both technical and financial/business language.

Abilityto work effectively within a team and build strong working relationships with all levels within the organization.

Strong organizational skills, attention to detail and task follow-up skills in a fast-paced and changing environment. Adept at handling multiple assignments in a timely manner and meeting assigned deadlines.

Willingness to work extended hours that may be required to meet project deadlines.

3-5 years of SAP Finance/FI/FICO/RTR experience; Accounts Payable/AP, Accounts Receivable/AR, OpenText, Treasury, General Ledger/GL, FSCM Biller Direct, Dispute, Collections, and Credit Management.
Preferred Qualifications:
Experience with SAP as a specific Enterprise Resource Planning platform.

Experience supporting and implementing solutions for a company with finance shared services model leveraging an ERP system.

Ability to conduct research into systems issues as required.

Highly self-motivated with a demonstrated ability to learn quickly and deliver results.

Ability to effectively prioritize and execute tasks in a high-pressure environment.

Experience with project planning desirable.
Options
Apply for this job online
Apply
Share
Email this job to a friend
Refer
Sorry the Share function is not working properly at this moment. Please refresh the page and try again later.Share on your newsfeed
Connect With Us!
Not ready to apply?
Connect with us
for general consideration.
Application FAQs
Software Powered by iCIMSwww.icims.com
Apply
Join our Community
Join our network for company updates and future employment opportunities.
Connect with us!
The Patterson Companies Difference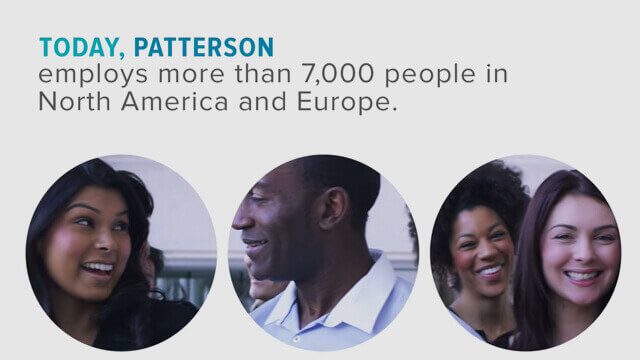 Corporate Responsibility
At Patterson Companies, we measure success by the strength of our relationships with our clients, customers and employees. From working with our partners to bring innovation solutions and provide best-in-class experience to our customers, to supporting employee volunteerism large and small, we're committed to building strong connections to support the communities we live and work in. Learn more about our corporate responsibility, click here.
Our Mission
Be a part of a great organization with a special mission: to be the market leading dental and animal health company supplying technology, marketing, support and logistics to maximize customer success. We connect expertise to inspired ideas, products and services and create a relevant, memorable difference in the lives of our clients, customers and employees. To learn more about our Mission and Values click here.