Security Analyst II
Job Location Minneapolis, Minnesota
Job ID 2020-10860
Apply
Overview
The Security Analyst II supports the operation of the network security hardware and software to ensure the protection of Patterson's information assets from unauthorized use, modification, or destruction. The role will be primarily involved in the daily security operations, enforcement of policies, standards, baselines, guidelines and procedures as well as assisting with vulnerability audits and assessments. The Security Analyst II is expected to be fully aware of the enterprise's security goals as established by its stated policies and to actively work towards upholding those goals.
Responsibilities
Ensures that security tools are functioning correctly, and that alerts are being acted upon according to company procedures.
Monitors and enforces information privacy and security policies and procedures for compliance.
Reviews and completes security vendor assessments, while interfacing with internal business units and outside vendors and customers.
Monitors applications and systems for the occurrence of security incidents and responds using incident response best practices.
Maintains up-to-date knowledge of the IT security industry including awareness of new or revised security solutions, improved security processes and evolving attacks and threat vectors.
Mentors junior team members on all aspects of information security operations.
Critical Competencies:
Communication:  This person is an effective communicator who stays on topic and uses language relevant to their audience.  They write clearly, concisely, and with good grammar.  They ask important, relevant questions and listen carefully to what others are saying.
Results Focus:  This person focuses on high priority tasks and pushes through challenges and obstacles to achieve results.  They are well organized and understand the metrics for success.  They provide timely feedback on their performance and understand how deliverables from others are interrelated with their assignments.
Technical Expertise:  This person develops and maintains mastery of current technical knowledge and best practices and uses that information to solve technical problems for the organization.  If they don't have specific information, they can leverage expertise in other parts of the organization.   They ask detailed questions and can make decisions based upon available data and analysis.
Collaboration:  This person understands the value of effective teamwork and maintains contacts and relationships over time.  They can modify their personal style if it will help the team to be more effective.  They establish rapport with employees across the organization and do their best to find and create win/win relationships.
Action Orientation:  This person can take the lead on projects if they are the subject matter expert.  They typically manage multiple assignments at the same time.  They have a high tolerance for ambiguity and trust their own judgment and decisions.
Customer Engagement:  This person monitors trends within their technical area and propose solutions that anticipate the needs of those they are working with.  They collaborate with others and engage in joint problem-solving.  They quickly establish rapport and develop personal context with others.
Qualifications
Minimum Qualifications:
Associate's Degree in Computer Science, Management Information Sciences, Mathematics, Engineering, Business, or area of functional responsibility preferred, or a combination of equivalent education and experience.

1-2 years hands-on experience and demonstrated expertise with security platforms and tools such as SIEM, SOAR, intrusion detection and prevention and endpoint protection.

Knowledge of information security technology, design, research techniques, administration, operating standards, and quality control methods.

Basic understanding of LAN/WAN technologies and protocols, FTP, Active Directory, VPN technologies (MPLS, IPSEC, etc.), IIS, could security and other network services.

Knowledge of security vulnerability assessments, IT audit and risk assessments, network server and application security assessments, security policy standards & procedure.

Some experience or exposure to conducting information security vendor risk assessments.

One or more of the following certifications:

CompTIA Security+

Other security-related certification
Preferred Qualifications:
Knowledge of ITIL and/or ISO/IEC 27001 standards.

Knowledge of IT security standards & procedures development.

General knowledge of cloud, wireless network and mobile security.

One or more of the following certifications:

GIAC Information Security Fundamentals

Certified Security Specialist (EC-Council)

CISSP

Proven analytical and problem-solving abilities.

Ability to effectively prioritize and execute tasks in a high-pressure environment.

Strong written, oral, and interpersonal communication skills.

Ability to conduct research into IT security issues and products as required.

Ability to present ideas in business-friendly and user-friendly language.

Highly self-motivated and directed.

Keen attention to detail.

Team-oriented and skilled in working within a collaborative environment.
An Equal Opportunity Employer
Patterson Companies, Inc., is an equal opportunity employer. We consider all qualified applicants without regard to race, religion, color, sex, national origin, age, sexual orientation, gender identity, disability or veteran status, among other factors.
Apply
Join our Community
Join our network for company updates and future employment opportunities.
Connect with us!
The Patterson Companies Difference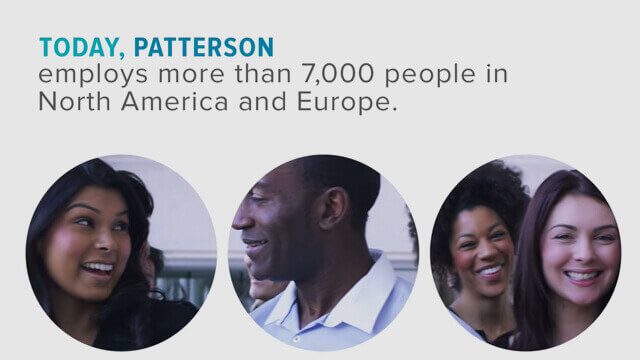 Corporate Responsibility
At Patterson Companies, we measure success by the strength of our relationships with our clients, customers and employees. From working with our partners to bring innovation solutions and provide best-in-class experience to our customers, to supporting employee volunteerism large and small, we're committed to building strong connections to support the communities we live and work in. Learn more about our corporate responsibility, click here.
Our Mission
Be a part of a great organization with a special mission: to be the market leading dental and animal health company supplying technology, marketing, support and logistics to maximize customer success. We connect expertise to inspired ideas, products and services and create a relevant, memorable difference in the lives of our clients, customers and employees. To learn more about our Mission and Values click here.