Security Engineer III
Job Location Minneapolis, Minnesota
Job ID 2020-10857
Apply
Overview
The Security Engineer III is accountable for the testing, evaluation, implementation, support, and deployment of security systems/devices used to safeguard the organization's information assets.  Ensures security tools are tuned and optimized for security operations to facilitate provisioning, event monitoring, incident response, and risk remediation efforts.  The role will be involved in leading the effort document, train, and operationalize security tools, as well as be accountable for conducting vulnerability audits and assessments. The Security Engineer III is expected to work with other compliance and audit groups throughout Patterson to implement and support the enterprise's security goals as established by its stated policies, procedures and guidelines and to actively work towards upholding those goals.  This role may have leadership over junior staff.
Responsibilities
Accountable for all security tool upkeep including maintenance, upgrades, break/fix, and patching.
Lead security tool tuning activities ensuring data accuracy to facilitate rapid response by Security Operations.
Accountable for developing documentation on security events, system architecture, and usage. In addition to cross-training and mentoring other staff involved with security processes including incident response.
Lead the creation of security metrics and report on security system status and security metrics to department and Patterson leadership.
Work effectively in a cross-functional team; capable of receiving work direction from direct and indirect leadership.
Maintain up-to-date detailed knowledge of the IT security industry including awareness of new or revised security solutions, improved security processes and evolving attacks and threat vectors and drive communication on changes to Patterson's risk posture.
Create and maintain security industry and vendor connections through conferences, industry contacts, professional organizations, and peers.
Conduct business impact analysis (BIA) while interfacing with associated business personnel.
Participate in other information security and privacy activities including application security assessments for commercial and corporate development, and general architecture and design efforts.
Assist with disaster recovery (DR) and technical recovery work as needed.
Provide leadership to less senior security staff as required.
Critical Competencies: 
Action Orientation:  The Security Engineer III has a strong sense of priority and focuses on the most important issues first.  They take on difficult and complicated tasks and maintain poise and a sense of humor under an intense work load and limited time.  They need little direction to start on a project.
Communication:  This person is an efficient focused communicator who does not go off on tangents.  They adjust their language based upon their audience and listen carefully to what others are saying.
Technical Expertise:  The Security Engineer III solves critical business problems through technical expertise.  They maintain mastery of their technical knowledge and best practices and can be called on to mentor others.  Their decisions are based upon available quantitative data and analysis.  They see the interconnections between organizational systems that others might miss.
Decision Making:  This person can make decisions in a timely manner because they combine facts and data with their personal experiences.  They are structured and disciplined in their decision making process.  They quickly assess the probabilities and impact of likely risks.
Results Focused:  The Security Engineer III creates visibility for management and other stakeholders around progress toward key milestones.  They do contingency planning to anticipate barriers or problems.  They provide the necessary focus to accomplish tasks and put in the necessary effort to ensure the job gets done on time.  They push through challenges and obstacles to achieve results.
Collaboration:  This person takes time to get to know others in and outside his/her immediate areas of responsibility and builds and maintains a diverse network of contacts.  These contacts become long term professional relationships.
Vision and Strategy:  They have a good sense of industry threats and how the organization needs to respond to them.  They can make sure that departmental goals are aligned with the larger organizational objectives.
Qualifications
Minimum Qualifications:
Bachelor's Degree in Computer Science, Management Information Sciences, Mathematics, Engineering, Business, or area of functional responsibility preferred, or a combination of equivalent education and experience.

6-8 years hands-on experience and demonstrated expertise with security platforms and tools such as firewalls, intrusion detection, anti-virus, and endpoint encryption.

Experience with tools such as QRadar SIEM, Qualys Enterprise, Microsoft EPP, Cylance, Microsoft Azure Security Center, KnowBe4 and Swimlane.

Previous participation in security architecture design initiatives.

Ability to present ideas in business-friendly and user-friendly language to all levels of management and staff.

One or more security certification, such as:

GIAC security based certification

Associate of (ISC)2 for CISSP

ITIL Foundations

Experience with ISO27001 framework
Preferred Qualifications:
Previous IT staff management experience.

Previous experience with PCI, SOX, HIPAA, and other International requirements.

Proven experience with cloud technologies.

Familiarity with cloud security tools and methodologies.

Proven analytical and problem-solving abilities.

Ability to effectively prioritize, delegate and execute tasks in a high-pressure environment.

Excellent written, oral, and interpersonal communication skills.

Ability to conduct research into IT security issues and products as required.

Highly self-motivated and directed.

CISSP, CISA, CISM or other industry related certifications.

Keen attention to detail.

Team-oriented and skilled in working within a collaborative environment.
An Equal Opportunity Employer
Patterson Companies, Inc. is an equal opportunity employer. All qualified applicants will receive consideration for employment without regard to race, color, religion, sex, sexual orientation, gender identify, disability or protected veteran status.
Apply
Join our Community
Join our network for company updates and future employment opportunities.
Connect with us!
The Patterson Companies Difference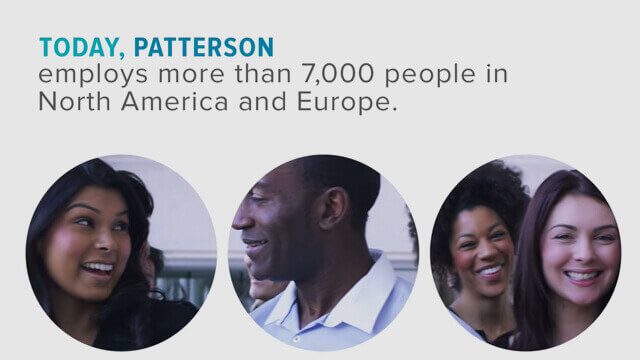 Corporate Responsibility
At Patterson Companies, we measure success by the strength of our relationships with our clients, customers and employees. From working with our partners to bring innovation solutions and provide best-in-class experience to our customers, to supporting employee volunteerism large and small, we're committed to building strong connections to support the communities we live and work in. Learn more about our corporate responsibility, click here.
Our Mission
Be a part of a great organization with a special mission: to be the market leading dental and animal health company supplying technology, marketing, support and logistics to maximize customer success. We connect expertise to inspired ideas, products and services and create a relevant, memorable difference in the lives of our clients, customers and employees. To learn more about our Mission and Values click here.