Logistics Operations Specialist
Job Location Mount Joy, Pennsylvania
Job ID 2019-9870
Apply
Overview
Responsible for PLSI operational functions to ensure efficient and profitable direction in order to achieve facility goals. Serves as the facility authority in a particular function (IC-Rec , Production) on policies and procedures, customer service and general administration.
Working Conditions: 
The distribution center is a warehouse for the storage and distribution of dental, medical and veterinary supplies and equipment.  In general, the building's primary work area consists of pallet storage racking, roller storage and small item storage shelving.  The facility uses powered conveyor systems for the transportation of products. Pallet jacks and forklifts are used for palletized products. Some positions require use of safety equipment, which is provided as needed.
Responsibilities
Regulatory Compliance (OSHA, PDMA, DEA, FDA, DOT, NFPA and State Board of Pharmacy): Serve as a regulatory representative by keeping abreast of current regulatory issues as they apply to PLSI.

Interpret and disseminate information on regulatory matters.

Oversee, maintain, and assist with the administration of regulatory programs in the distribution centers.

Complete and retain various compliance reports in a timely manner.

Develop, update and distribute compliance policies and procedures, as needed, assuring policies are accurate, current and in compliance with federal and state regulations.

Review and update policies as laws change. Assists in the development of safety programs and training.

Conduct site audits.

ISO 9001: Oversee employees engaged in auditing activities to ensure compliance with the quality system, high productivity and technical integrity.

Formulate, document and maintain quality control standards and on-going quality control objectives.

Create, document and implement audit criteria and procedures.

Communicate quality control philosophy to key personnel within Company. Perform internal audits.

Address non-conformities from previous internal and external audits.

Conduct Management Review of the Quality System.

Follow-up on and close pending Preventive and Corrective Action Requests.

Insure organizational systems and training is in place.

Prepare organization for ISO 9001 audit.

| | |
| --- | --- |
| Frequency | Requirement |
| 75% daily | Walking and standing |
| 75% daily | Sitting |
| 25% daily | Telephone use |
| 80% daily | Computer use |
| 50% annually | Air and auto travel to distribution centers, supplier facilities and other office locations within the U.S. |
Qualifications
Education/Training and Skills:
A college degree in business administration, operations management and Distribution Logistics or equivalent work experience is required.

Candidate must be able to read, understand, and effectively administer all company policies and procedures.

Expert knowledge of all information systems used in the course of daily business (D.C. computerized order and inventory system, computer applications for word processing, spreadsheets, and databases).
Relevant Work Experience:
5-10 years in distribution operations or equivalent experience required.

Demonstrated success in leadership roles and consistent achievement record in all work or school related activities.

Desirable relevant work experience includes warehouse administration, general business management, warehouse labor (Receiving, Order Filling, Shipping, or Customer Service.

Previous experience in regulatory compliance, ISO 900.
An Equal Opportunity Employer
Patterson Companies, Inc. is an equal opportunity employer. All qualified applicants will receive consideration for employment without regard to race, color, religion, sex, sexual orientation, gender identify, disability or protected veteran status.
Apply
Join our Community
Join our network for company updates and future employment opportunities.
Connect with us!
The Patterson Companies Difference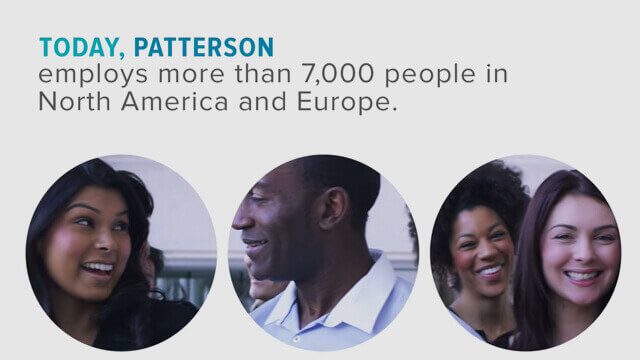 Corporate Responsibility
At Patterson Companies, we measure success by the strength of our relationships with our clients, customers and employees. From working with our partners to bring innovation solutions and provide best-in-class experience to our customers, to supporting employee volunteerism large and small, we're committed to building strong connections to support the communities we live and work in. Learn more about our corporate responsibility, click here.
Our Mission
Be a part of a great organization with a special mission: to be the market leading dental and animal health company supplying technology, marketing, support and logistics to maximize customer success. We connect expertise to inspired ideas, products and services and create a relevant, memorable difference in the lives of our clients, customers and employees. To learn more about our Mission and Values click here.