Vet Technology Specialist
Job Location Orlando, Florida
Job ID 2019-9453
Apply
Overview
The Vet Technology Specialist consults with veterinary practices in identifying opportunities to streamline and generate business opportunities within assigned territory. Selling and supporting technology solutions within Patterson Veterinary's technology portfolio. Coordinates, consults, and strategize with Patterson territory managers to achieve budgeted sales volume and other established goals, including increasing market penetration and maintaining acceptable gross profit levels on all technology sales.
Responsibilities
Actively identify opportunities and sell Patterson Veterinary technology products and solutions to meet and assist in an accounts needs and growth.
Develops and maintains professional relationships with branch manager, territory managers, customers, vendors, and other Company personnel.
Consults with territory managers, branch manager and customers to assess and meet our customer's technology needs.
Assist the customer with identifying technology solution(s) and business flow that will suit their needs. Recommend improvements and upgrades as appropriate.
Act as an ongoing advisor to Patterson Veterinary customers regarding their technology structure and software packages.
Responsible for training and supporting accounts in the use of technology products and solutions.
Attend, participate in, and support meetings and activities (ie. Trade shows, technology events and marketing activities).
Professionally represents the Company in accordance with company policies and procedures.
Attend all Patterson Veterinary meetings.
Performs other duties as assigned.
Qualifications
Bachelor degree is preferred
Sales experience is preferred
Excellent presentation skills
Outstanding problem-solving skills
Ability to work and contribute to a team environment
Excellent communication skills, both oral and written
Knowledge and/or experience within the veterinary industry and general practices preferred.
An Equal Opportunity Employer
Patterson Companies, Inc., is an equal opportunity employer. We consider all qualified applicants without regard to race, religion, color, sex, national origin, age, sexual orientation, gender identity, disability or veteran status, among other factors.
Apply
Join our Community
Join our network for company updates and future employment opportunities.
Connect with us!
The Patterson Companies Difference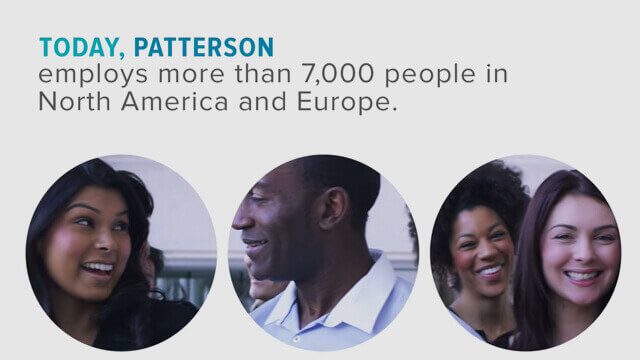 Corporate Responsibility
At Patterson Companies, we measure success by the strength of our relationships with our clients, customers and employees. From working with our partners to bring innovation solutions and provide best-in-class experience to our customers, to supporting employee volunteerism large and small, we're committed to building strong connections to support the communities we live and work in. Learn more about our corporate responsibility, click here.
Our Mission
Be a part of a great organization with a special mission: to be the market leading dental and animal health company supplying technology, marketing, support and logistics to maximize customer success. We connect expertise to inspired ideas, products and services and create a relevant, memorable difference in the lives of our clients, customers and employees. To learn more about our Mission and Values click here.