Field Service Technician
Job Location Pensacola, Florida
Job ID 2017-6571
Apply
Overview
Who are we looking for?
Patterson Veterinary is looking for an independent worker who is interested in the field of veterinary medical device equipment repair, maintenance and installation.
What can you expect as a Service Technician?
As a Service Technician, you provide repair and installation on a variety of veterinary equipment and products. The Service Technician learns and follows manufacturer guidelines relative to the repair of veterinary medical devices. Training is supplied by mentorship program with other branch technicians, manufacturers, online training courses and the Patterson Technology Center.
Responsibilities
Independently responds to assigned customer service calls, diagnosing problems and making appropriate repairs.
Determines parts, supplies or tools needed to complete service requests.
Relays any special problems to Service Coordinator following each call.
Ensures that service commitments are met within standard response time.
Loads, delivers, installs, and specs equipment.
Trains customers on the use and basic maintenance of equipment sold.
Uses, maintains, and secures test devices and tools used to adjust, calibrate and repair equipment.
Completes all required paperwork (time sheets, service orders, forms, inventory, expense reports, purchase card, and equipment related items).
Returns defective modules, assemblies or parts to the local office and labels items.
Manages vehicle inventory and restocks as necessary.
Ensures proper vehicle maintenance guidelines and safe driving habits are followed.
Follows specific manufacturer, Federal/State, BHR guidelines for repairs.
Complies with all company, OSHA, or other agencies' policies related to asepsis.
Assists management in analyzing pricing strategies and other Service Department procedures.
Serves as a technical contact for assistance with the training and ongoing technical support for other technicians, sales staff and administrative staff.
Some overnight travel is required
Performs other duties as assigned.Save
Qualifications
High school diploma or equivalent.
Valid driver's license and clean driving record required.
Previous X-Ray experience preferred.
Technical training in Bio-med/electronics or related technical field is a plus.
At least 4 years experience as a field service technician or field repair technician in a dental/medical environment required.
Strong customer service skills.
Excellent organizational and problem solving skills.
Ability to lift and load equipment into vehicle and unload at repair or installation site.
Must be able to lift 100lbs.
Electrical, schematic reading, plumbing, mechanical or carpentry skills are helpful.

If this sounds like the challenge you are looking for, we invite you to submit your application. Click here for information regarding the hiring process at Patterson!
Apply
Join our Community
Join our network for company updates and future employment opportunities.
Connect with us!
The Patterson Companies Difference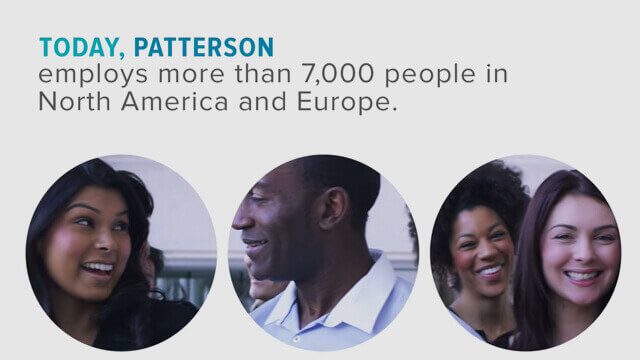 Corporate Responsibility
At Patterson Companies, we measure success by the strength of our relationships with our clients, customers and employees. From working with our partners to bring innovation solutions and provide best-in-class experience to our customers, to supporting employee volunteerism large and small, we're committed to building strong connections to support the communities we live and work in. Learn more about our corporate responsibility, click here.
Our Mission
Be a part of a great organization with a special mission: to be the market leading dental and animal health company supplying technology, marketing, support and logistics to maximize customer success. We connect expertise to inspired ideas, products and services and create a relevant, memorable difference in the lives of our clients, customers and employees. To learn more about our Mission and Values click here.