Customer Integration Coordinator
Job Location Saint Paul, Minnesota
Job ID 2019-9746
Apply
Overview
The Customer Integration Coordinator will be responsible for enabling a positive customer onboarding, maintenance, and day to day experience inside of our key Strategic Accounts division. 
Success in this role will be driven through consistency in process and achievement of committed timelines associated with a seamless integration of new group customer wins and existing group customer additions. Priorities will include being the central contact partner ensuring customer accounts are ready across all internal systems, successful customer onboarding of our online ordering website, and supporting day to day activities of ongoing customer needs.
Responsibilities
Partners with field representation and special markets associates to understand the customer set-up and onboarding needs of new customer acquisitions and existing customer account additions.

Works cross functionally with the customer, field representation, and shared services departments as the central point of contact for each new group set-up and affiliate additions to complete all account master set-up functions.

Facilitates the customer onboarding support and owns the virtual/webex customer onboarding process as defined in the customer agreement.

Facilitates an customer offboarding session with internal account stakeholders for successful account ownership transitions.

Responds to inquiries from customers and sales personnel.

Answering incoming customer affiliate calls on our to assist with customer immediate needs.

Performs other customer integration coordinator functions as needed.
Qualifications
Customer Integration Coordinator Minimum Qualifications:
Business Degree or equivalent of education and experience.

Minimum of 3 years of relevant work experience (i.e. customer service).

Excellent interpersonal skills including verbal and written communication.

Uses technology with efficiency, including Microsoft 365 and SAP CRM and ECC platform.

Ability to multi-task in a fast-paced environment.

Exhibits strong organizational and multi-tasking skills, demonstrates sound judgment and excellent decision-making abilities, while showing a great attention to detail.

Time management skills.

Experience in virtual presentations.
Preferred Customer Integration Customers Qualifications:
Previous working experience with project management.

Willingness to learn new skills.

Proven analytical and problem-solving abilities.

People oriented, with a positive attitude and patience.
An Equal Opportunity Employer
Patterson Companies, Inc., is an equal opportunity employer. We consider all qualified applicants without regard to race, religion, color, sex, national origin, age, sexual orientation, gender identity, disability or veteran status.
Apply
Join our Community
Join our network for company updates and future employment opportunities.
Connect with us!
The Patterson Companies Difference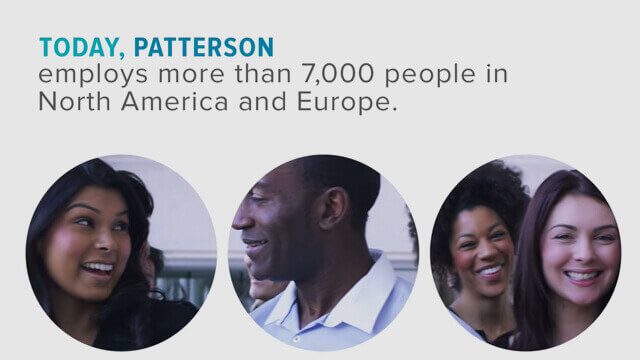 Corporate Responsibility
At Patterson Companies, we measure success by the strength of our relationships with our clients, customers and employees. From working with our partners to bring innovation solutions and provide best-in-class experience to our customers, to supporting employee volunteerism large and small, we're committed to building strong connections to support the communities we live and work in. Learn more about our corporate responsibility, click here.
Our Mission
Be a part of a great organization with a special mission: to be the market leading dental and animal health company supplying technology, marketing, support and logistics to maximize customer success. We connect expertise to inspired ideas, products and services and create a relevant, memorable difference in the lives of our clients, customers and employees. To learn more about our Mission and Values click here.