Director, Infrastructure
Job Location Saint Paul, Minnesota
Job ID 2019-9780
Apply
Overview
As the Director of IT Infrastructure, you will focus on advancing the Patterson infrastructure and team members to build a DevOps culture, create effective and efficient ITSM processes, implement Infrastructure as Code and partner with peers to create the Cloud strategy within Patterson. This role is both strategic and hands on which will create interesting and fulfilling work as you develop partnerships with the Patterson lines of business, internal shared service functions, as well as internally within IT to build the right alignments for success.  It is essential that you are able to create technology that is reliable, resilient and that will create a competitive advantage for Patterson employees and customers. The ideal candidate is passionate about developing infrastructure services and their team members.  
Responsibilities
Infrastructure Leadership:
Drive a culture of focusing on customer and co-worker experience, problem solving, automation and innovation.

Collaborate closely with the Director of IT Security to ensure the success of the Patterson information security program and IT risk related initiatives

Collaborate with Enterprise Business Services Team and Web Delivery Team to ensure creation and delivery of infrastructure services that meet Patterson application needs.

Responsible for the budgeting, training and delegation of a technical team to carry out the security, infrastructure and technical operations of the enterprise in line with strategic business requirements

Architect and implement a service-based, automated set of infrastructure capabilities

Assess people, process, and technology to determine best course of action towards Cloud and agile delivery

Ensure compliance with SOX processes and controls in partnership with the Information Security team and application teams

Establish short-term and long-term metrics for departmental goals and implementation of the enterprise Infrastructure and information security strategies

Work closely with business/department leaders to ensure understanding of business processes, value drivers and strategies.

Promote a positive team environment within the Patterson Information Technology group
People Management:
Encourage the growth of all direct and indirect reports through skill development and goal setting.

Hold direct reports accountable for meeting performance standards and departmental performance goals.

Mentor staff, measure performance, and complete regular performance reviews.

Resolve employee issues in an effective and consistent manner.
Qualifications
Bachelor's in Computer Science, Information Systems, a related field or equivalent work experience

12 or more years of IT and business/industry work experience, with at least 6 years of leadership experience in managing multiple, large, cross-functional teams and projects

Experience in strategic planning, development, implementation and maintenance of large-scale, integrated systems

Broad knowledge of technologies related to IT Infrastructure and Information Security

Experience or understanding of the following network, data center and cloud technologies: Windows Server 2008-2016, Azure Cloud platform and services, VMWare (including VDI), CommVault (data protection/replication), Cisco routers, switches & firewalls, Pure (SAN), EMC, Cisco Identity Services Engine (ISE), Cisco Unified Computing System (USC), Cisco Unified Communications and Contact Center.

Experience or understanding of the following desktop technologies: Windows desktop OS's, Active Directory, SCCM, Office 365, software packaging tools, group policy, PowerShell scripting and security tools including Windows Defender, Cylance and Zscaler.

Demonstrated ability to work with and influence senior level management and key stakeholders

Experience leading as a team player that plans and executes to meet deadlines, while promoting a positive work environment

Ability to interact with and influence cross-functionally at all levels of the organization

Strong people-management and development experience, with success in leading through change

Possess strong knowledge of public clouds and their roadmaps; like MS Azure

Strong technical background in developing Infrastructure and Architecture strategies and standards
An Equal Opportunity Employer
Patterson Companies, Inc., is an equal opportunity employer. We consider all qualified applicants without regard to race, religion, color, sex, national origin, age, sexual orientation, gender identity, disability or veteran status, among other factors.
Apply
Join our Community
Join our network for company updates and future employment opportunities.
Connect with us!
The Patterson Companies Difference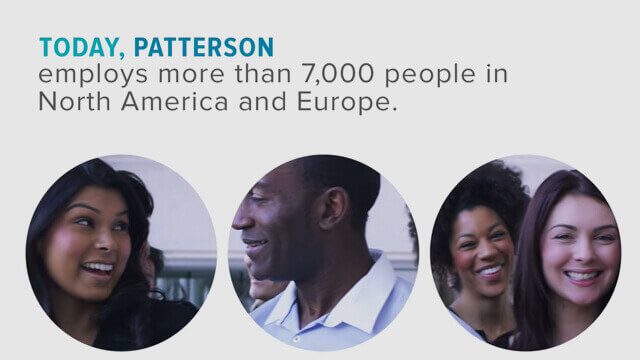 Corporate Responsibility
At Patterson Companies, we measure success by the strength of our relationships with our clients, customers and employees. From working with our partners to bring innovation solutions and provide best-in-class experience to our customers, to supporting employee volunteerism large and small, we're committed to building strong connections to support the communities we live and work in. Learn more about our corporate responsibility, click here.
Our Mission
Be a part of a great organization with a special mission: to be the market leading dental and animal health company supplying technology, marketing, support and logistics to maximize customer success. We connect expertise to inspired ideas, products and services and create a relevant, memorable difference in the lives of our clients, customers and employees. To learn more about our Mission and Values click here.