Vendor Account Manager
Job Location Saint Paul, Minnesota
Job ID 2019-9593
Apply
Overview
The Vendor Account Manager is responsible for coordinating all activities of suppliers including contract management, supplier profitability, advertising, targeted marketing activities and field sales activities/programs. Tasks include understanding contract terms and managing accruals and maintaining a collaborative relationship with assigned vendors.

The successful vendor account manager will be responsible for building direct relationships with key suppliers, negotiating contracts, terms & conditions, managing vendor setup and new item setup processes. This candidate should have experience building strong relationships, and be comfortable managing multiple responsibilities within a fast-paced environment.
Responsibilities
Possess strong analytical acumen and be comfortable drawing metric-based conclusions by managing an extensive amount of data.

Ownership for multiple vendor relationships: setting metrics, conducting regular reviews, and ensuring vendors continue to provide value.

Work with list of assigned vendors to obtain assets necessary to meet internal production timelines. This includes management of internal workflow process to ensure seamless and timely implementation of projects and adherence to all deadlines.

Serve as vendor liaison, establishing and maintaining contact with key internal functional team members and external vendor team members to those contacts for questions and processes outside of the scope of marketing.

Shepherd new vendors through the onboarding process by engaging legal, compliance, finance, business and technology teams to ensure MNDAs, MSAs, and SOW are completed on time to support requirements.

Regularly and proactively review interactions with vendors to ensure adherence to contractual obligations.

Assist with process improvement projects to streamline existing approaches.

Work with the ecommerce and merchandising teams to identify sources of new content and best practices to manage data and assets for all digital programs, increase organizational/vendor knowledge of digital area of expertise and further develop dashboard reporting (key performance metrics) to help drive consumer engagement/campaign success on a monthly basis.

Communicate successes and failures and develop recommendations for future campaigns.

Effective leader and communicator in working with Patterson internal groups such as field and corporate sales team, category management, marketing, finance, operations, and supply chain.

Performs other Vendor Account Manager duties as assigned.
Qualifications
Vendor Account Manager Minimum Qualifications:
B.A. or B.S. degree in business, supply chain, procurement, finance or equivalent experience.

3-5 years of experience in Supplier Relationship Management, Supplier Performance Management or Third-Party Risk Management.

Strong communication skills, both written and verbal.

Experience in evaluating, developing and implementing vendor performance management solution.

Experience working within cross-functional teams.

Ability to think strategically and operationally/tactically.

Ability to flourish and influence others in an environment of fast growth and ambiguity.

Thought Leadership: determination to drive breakthrough thinking and continuous improvement; sets a personal example.
An Equal Opportunity Employer
Patterson Companies, Inc., is an equal opportunity employer. We consider all qualified applicants without regard to race, religion, color, sex, national origin, age, sexual orientation, gender identity, disability or veteran status.
Apply
Join our Community
Join our network for company updates and future employment opportunities.
Connect with us!
The Patterson Companies Difference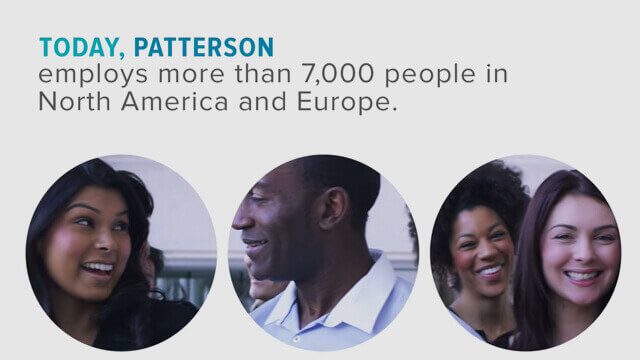 Corporate Responsibility
At Patterson Companies, we measure success by the strength of our relationships with our clients, customers and employees. From working with our partners to bring innovation solutions and provide best-in-class experience to our customers, to supporting employee volunteerism large and small, we're committed to building strong connections to support the communities we live and work in. Learn more about our corporate responsibility, click here.
Our Mission
Be a part of a great organization with a special mission: to be the market leading dental and animal health company supplying technology, marketing, support and logistics to maximize customer success. We connect expertise to inspired ideas, products and services and create a relevant, memorable difference in the lives of our clients, customers and employees. To learn more about our Mission and Values click here.