Fleet Driver II
Job Location Twin Falls, Idaho
Job ID 2019-8651
Apply
Overview
Perform effective, safe, and efficient driving duties.
Responsibilities
Essential Duties and Responsibilities:
Responsibilities and essential job functions include but are not limited to the following:
Demonstrated above average performance in:
Transact all business in accordance to Animal Health International Inc.'s business code of ethics and conduct

Align with the Company's Mission, Guiding Principles, Values, Goals and Objectives

Drive assigned vehicle and deliver/pick up products

Collect money from customers and help resolve service complaints

Load and unload assigned vehicle

Operate all of the warehouse equipment/machinery

Achieve assigned performance metrics and KPIs

Help maintain a secure, organized, clean, and safe warehouse and vehicle

Handle all hazardous materials, pesticides, and prescription drugs according to Company's processes/procedures in accordance with all applicable laws and regulations

Assure routine maintenance is performed on assigned vehicle per schedule vehicle is in a good and safe condition at all times

Familiar with overall Fleet driving operations responsibilities and expectations
Other Duties/Responsibilities:
Demonstrated above average performance in:
Managing time effectively, meeting personal goals and fleet goals and objectives

Performing all work in accordance with Company Safety guidelines and procedures including all required Safety and Compliance Training and regulatory licensing

Maintain acceptable driving record and current driver's license at all times

As assigned
Qualifications
Knowledge, Skill and Ability:
Above average ability to drive assigned vehicle, knowledge of delivery area and ability to read maps

Above average success with DOT documentation and adherence to timelines

Must be bondable

Above average ability to work as an effective team member

Above average ability to operate all of the warehouse equipment/machinery

Above average ability to train others

Above average problem solving skills and overall job performance

Above average job knowledge, experience and time management skills to allow for limited supervision
Education or Formal Training:
High school diploma or GED preferred

Required to obtain DOT certification

Required to obtain Haz Mat endorsement and certification
Experience:
Minimum of 3-5 years of experience as a delivery driver required
Environment:
Material and Equipment Directly Used:
Assigned vehicle/vehicles

General office equipment

General warehouse equipment
Working Environment/Physical Activities:
Unloading and loading a vehicle

Stationary position 50% of the time

Moving 50% of the time

Move up to 75 lbs.

Move hand and pallet jacks with pallets, totes or barrels weighing up to 2,500 lbs.
Positions Reporting to This Position:
An Equal Opportunity Employer
Patterson Companies, Inc., is an equal opportunity employer. We consider all qualified applicants without regard to race, religion, color, sex, national origin, age, sexual orientation, gender identity, disability or veteran status, among other factors.
Apply
Join our Community
Join our network for company updates and future employment opportunities.
Connect with us!
The Patterson Companies Difference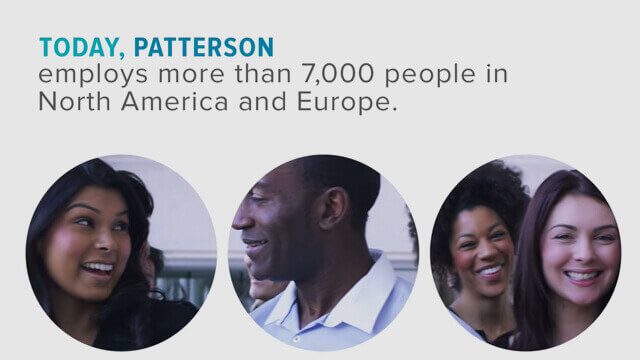 Corporate Responsibility
At Patterson Companies, we measure success by the strength of our relationships with our clients, customers and employees. From working with our partners to bring innovation solutions and provide best-in-class experience to our customers, to supporting employee volunteerism large and small, we're committed to building strong connections to support the communities we live and work in. Learn more about our corporate responsibility, click here.
Our Mission
Be a part of a great organization with a special mission: to be the market leading dental and animal health company supplying technology, marketing, support and logistics to maximize customer success. We connect expertise to inspired ideas, products and services and create a relevant, memorable difference in the lives of our clients, customers and employees. To learn more about our Mission and Values click here.