Production Worker
Job Location Waukesha, Wisconsin
Job ID 2018-7498
Apply
Overview
Responsible for assembly of anesthesia machines, accessories, and other related equipment. May also assist in inspecting, cleaning, repairing and refurbishing anesthetic vaporizers.
Responsibilities
Pick and issue materials to manufacturing shop orders.

Assemble anesthesia machines, accessories, and other related equipment. May also assist in vaporizer room work.

Printing and applying labels using computerized labeling equipment.

Performing pressure tests on anesthesia machines.

Troubleshooting anesthesia machines that fail the pressure test.

Updating jobs sheets and adjusting inventory levels.

Entering customer information into the computerized serial number database.

Packing of anesthesia machines and accessories.
Qualifications
High School graduate or equivalent required.

Prior experience with common assembly tools preferred.

Ability to read and understand assembly drawings and instructions.

Ability to use hand tools and cordless drills/screwdrivers.

Ability to use basic measuring tools such as dial calipers and depth micrometer.

Basic computer skills, including knowledge of MS Office and business computer systems.

Able to occasionally lift up to 35 lbs.

Outstanding problem-solving skills.

Outstanding trouble shooting skills.

Excellent communication skills, both oral and written.

Courteous and professional manner of communication.

Ability to multi-task in a fast paced environment.

Ability to work and contribute to a team environment.

Strong organizational skills with a focus on being dependable, reliable and punctual.
An Equal Opportunity Employer
Patterson Companies, Inc., is an equal opportunity employer. We consider all qualified applicants without regard to race, religion, color, sex, national origin, age, sexual orientation, gender identity, disability or veteran status, among other factors.
Apply
Join our Community
Join our network for company updates and future employment opportunities.
Connect with us!
The Patterson Companies Difference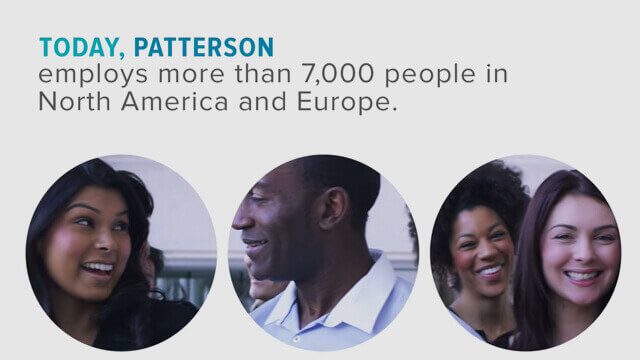 Corporate Responsibility
At Patterson Companies, we measure success by the strength of our relationships with our clients, customers and employees. From working with our partners to bring innovation solutions and provide best-in-class experience to our customers, to supporting employee volunteerism large and small, we're committed to building strong connections to support the communities we live and work in. Learn more about our corporate responsibility, click here.
Our Mission
Be a part of a great organization with a special mission: to be the market leading dental and animal health company supplying technology, marketing, support and logistics to maximize customer success. We connect expertise to inspired ideas, products and services and create a relevant, memorable difference in the lives of our clients, customers and employees. To learn more about our Mission and Values click here.